Fox News Has Had Its Fill of Sarah Palin
The former vice presidential nominee went quickly from a small-town mayor to a highly sought-after Fox commentator.
by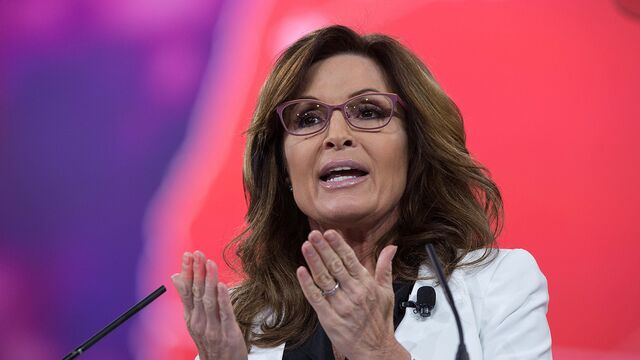 Former Alaska Governor Sarah Palin's is leaving Fox News, Politico reported Wednesday, marking the second departure from the network for the once nearly unknown Republican who vaulted to national prominence as an outspoken conservative voice as the party's vice presidential nominee in 2008.
A Fox spokesperson said the two parties "amicably parted ways" when Palin's contract wasn't renewed June 1, according to Politico, which wrote that "executives consider her less relevant now" than she was when she joined in 2010. She left briefly in 2013, according to CNN, only to return a few months later.
When Palin joined Fox, she was hot off the ticket as Senator John McCain's running mate, to which she had brought both energy and gaffes, and she was honing confrontational conservative media persona.
She had been so unknown when McCain chose her that Joe Biden, then the Democratic vice presidential nominee and a senator who was no political neophyte, didn't even know who she was, according to Bloomberg Politics' Mark Halperin and John Heilemann.
As detailed in their book Game Change, McCain hadn't yet settled on who he wanted his running mate to be a week before the Republican National Convention, but he didn't feel right about anyone on his short list (including Mitt Romney).
She was forty-four years old, had occupied the Alaska statehouse for twenty months, and had an 80 percent approval rating, making her, as [campaign strategist Steve] Schmidt pointed out, "the most popular governor in America." She'd attended five colleges and been a beauty queen, a sportscaster, and the two-term mayor of Wasilla, the tiny town where she lived with her snowmobiling husband.
But even then she had a flair for media, with Schmidt and another staffer calling her "a star" after seeing her on Charlie Rose. As the campaign vetted her later, "What reassured them was Palin's preternatural calm and self-possession. Never once did she betray any jitters or lack of confidence." She then delivered a rousing speech at the convention despite a malfunctioning TelePrompTer.
The missteps arrived quickly. In her first major interview, with ABC's Charlie Gibson, she famously declared that she had foreign policy credentials because "you can actually see Russia from land here in Alaska," which provided fodder for the SNL parody line, "I can see Russia from my house."
Then an interview with Katie Couric was what Halperin and Heilemann called a "disaster."
Palin's answers about the bailout were halting an incoherent. When Couric asked her to name example of McCain's efforts to regulate the economy, Palin said, "I'll try to find some and bring them to you." Asked again about the relevance of Russia's closeness to Alaska, she replied, "As Putin rears his head and comes into the airspace of the United States of America, where do they go? It's Alaska." Asked to name a Supreme Court case, besides Roe v. Wade, that she disagreed with, Palin awkwardly hedged... and then came up empty.
There was also, however, a sense that conservative crowds wanted her, even if the political class didn't. Soon after McCain had announced Palin as his running mate, "donations and volunteers spiked." More from Game Change:
Cable and radio could talk of little else but Sarah. The Palin pick deprived of Obama of his post-convention bump; the weekend after the GOP convention, McCain was trailing him by a trifling two points. And according to an ABC News/Washington Post poll, McCain's standing among white women had improved by a net twenty points... in the blink of an eye.

On September 10 [2008], McCain and Palin appeared together in Fairfax, Virginia, a few miles from the campaign's headquarters. Fifteen thousand people swarmed into Van Dyke Park—little girls wearing "STRONG WOMEN VOTE MCCAIN–PALIN" T-shirts, their mothers chanting, "Sarah! Sarah! Sarah!"
By 2010, not that long after after McCain's defeat at the end of 2008, Fox decided to capitalize on that fervor. At the time, memory of her run, gossip that she'd try to head the ticket in 2012, and surging conservative blowback against Obama made her attractive, especially to the network that had also made a home for Republican former officeholders like Mike Huckabee and John Kasich. Palin's initial contract with Fox was reportedly worth $1 million, "a salary that made Palin the highest-paid pundit at the highest-rated channel in cable news," CNN said Wednesday.
The marriage didn't go smoothly for long. Her brief departure in 2013 came after "chief Roger Ailes was reportedly angry that Palin had chosen another media outlet to announce she wasn't running for president in 2012," the Associated Press reported.
Even after she returned, her appearances grew sparse. The Washington Post found just six in the past year.
As the Politico noted, though, she's not exactly going away: She's more popular than any current Republican presidential candidate on Facebook, still has a show on the Sportsman Channel, and is a public speaker in high demand.
Before it's here, it's on the Bloomberg Terminal.
LEARN MORE