Trump's Loony, Narcissistic Instagram Monologues Are Actually Inspired
He's as nutty and unfiltered as anyone on the Internet—which, in politics' staid theater, is refreshing.
by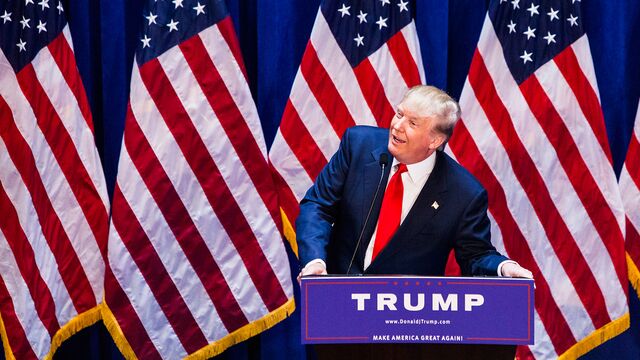 Last week, Donald Trump, with signature understatement, logged onto his Instagram account and called Hillary Clinton "pathetic" and accused her of blaming him for the tragic shooting in Charleston, South Carolina. He ended his missive with, "This is why politicians are just no good. Our country's in trouble."
This has led to a bit of a kerfuffle in the political press, with Fox News claiming that it has sparked a "feud" between the Clinton and Trump "camps." Trump's camp, according to the story, seems to be Trump posting to his Facebook page, and I don't say that to undermine the story's sourcing: That's probably as close to a "camp" as Trump has.
Now that Trump is a presidential candidate, his usual ham-fisted bloviations are being treated as news, and as a long-time admirer of Trump on social media, let me say that this is delightful news. Donald Trump treats social media the way most of us treat a mirror when we're alone getting ready for a date; he's always dancing like everybody is watching. Donald Trump's Instagram has been a trip down the rabbit hole of lunacy and puffed cheeks for almost a year now, and I'm so excited that the rest of the political world gets to experience it now.
This last missive was about politics—well, sort of—but Trump rarely uses the short video snippets of Instagram for matters so trivial. Typically, Trump only weighs in on the big stuff.
Like, the idea that they'd make an Indiana Jones movie without Harrison Ford, or a Ghostbusters with an all-woman cast:
Or Hollywood remakes:
Or the oratorical stylings of British starlet Jacqueline Bissett:
These random brain droppings of Trump appear regularly on his Instagram, along with brief little Trump koans ("Success is good. Success with significance is even better") and, mostly, pictures of Trump with famous people, including but not limited to Michael Douglas, Steven Spielberg (whom he appears to be accosting), Mariano Rivera, Joe Pesci, Britney Spears, Ian Ziering, Neil Young, and a deeply uncomfortable Elton John. Trump's musings in the captions generally resemble entries in Larry King's old USA Today columns ("People love Lil Jon!"), but the real fun comes from the videos.
They appear to be filmed in one take—at least I'd hope so—by some poor assistant, just pointing an iPhone at Trump in his office and pushing the button. Trump appears never to think about what he's going to say until he starts talking, which in theory should lead to some unscripted, unguarded moments but in reality just features whatever detritus happened to be hanging around Trump's lower lip that particular second. The Trump statements are less "commentaries" than they are "quarter-formed brain synapses committed to digital form" and they lack the complexity and cohesion of your average 3 a.m. sports talk radio call.
Which is to say they are wonderful. People use the phrase all the time, but it is, in fact, rare to see someone talk just so they can hear themselves speak. This is the entirety of what Trump does on social media, and it is mesmerizing to watch.
Here's Trump on Obama chewing gum:
"They're going crazy!" "It's disgusting!" Your crazy uncle wouldn't even bother putting these thoughts on his Facebook wall. But here's Trump, letting you know that that George Zimmerman fellow is simply nothing but trouble:
That was Trump's first Instagram video: He must have thought he really nailed it.
Trump's videos remind me the most of Kige Ramsey, an old sports Internet folk hero we made a star back when I ran the sports blog Deadspin. Ramsey, a Kentucky man thrilled by the freedom the Internet provided him, began posting sports commentary videos online, saying, hilariously, he was "reporting live for YouTube Sports." (We loved him so much we put him in the Deadspin Hall of Fame.) Some videos gave relationship advice, some suggested the best times to go to a Walmart, in some he just danced. My favorites were the instructional videos, including this classic on how to shoot a free throw:
That's what these Trump videos are: Just someone who wants to be on television, saying the first thing that comes to his mind. The difference—other than that Ramsey's videos are always good-hearted, even in their clumsiness—is that Trump actually has people listening to what he has to say … even when he has nothing to say.
For instance, I have no idea what's going on with Trump here:
A million what, exactly? Does Trump himself know?
Now that Trump is running for president, we should expect a lot more of these, perhaps (but only sporadically) with some connection to the serious issues of the day. But know that these are the digital equivalent of Trump clearing out his ears with a Q-tip: It's whatever is just about to fall out of his head at that particular moment.
He's the best. Please get this guy in the debates. I must know Rick Santorum's stance on Jacqueline Bisset. The republic stands perilously by.
Before it's here, it's on the Bloomberg Terminal.
LEARN MORE