Mike Huckabee Backs Nikki Haley on Confederate Flag Removal
On Sunday, the Republican said it wasn't an issue for a presidential candidate.
by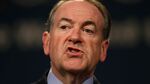 Republican presidential candidate Mike Huckabee on Tuesday said he supports South Carolina Governor Nikki Haley's call to remove the Confederate flag from the state capitol grounds.
His comments come after he said Sunday the flag debate, which erupted after the shooting of nine African-American worshippers in a Charleston church last week, was "not an issue for a person running for president."
"Now that Republican governor has spoken out and has said that it is an awful symbol and she wants it to come down. Do you agree with her? Yes or no," interviewer Ed Henry asked Huckabee on Fox on Tuesday.
"Absolutely, because that's where it needed to be settled," said Huckabee, a former governor of Arkansas, a former Fox host, and winner of the 2008 Iowa caucuses. "She took leadership of her state and that's what governors do. She was accompanied by the congressmen, by the senators, by the leaders of the House and Senate. That's where this issue should be and it is being settled. It shouldn't be settled by the New York Times or a bunch of talking heads from the Washington roundtable. It ought to be decided by the people who live in that state. That's what's happening and I salute Governor Haley and the other people of South Carolina for saying 'Look, if this is a distraction, this is something that inflames people, it's not that important to us.'"
He denied that he had punted on the question earlier. He said on NBC's Meet the Press on Sunday that while he didn't personally display the Confederate flag anywhere but stopped short of stating his position on South Carolina's display.
"I didn't punt at all," Huckabee said. "I just simply said that the president of the United States has nothing to do with what flags go on capitol grounds."
He isn't the only 2016 Republican candidate who came to support Haley's move on Monday. South Carolina Senator Lindsey Graham, former Florida Governor Jeb Bush, and Wisconsin Governor Scott Walker (who hasn't declared his candidacy yet) also did.
Huckabee also said faith was a more critical topic for the country to tackle than race in the wake of the shooting.
"I keep hearing, Ed, people talk about, 'We need more conversations about race,'" Huckabee said. "Actually, we don't need more conversations, what we need is conversions, because the reconciliation that changes people is not a racial reconciliation, it's a spiritual reconciliation. When people are reconciled to God—we saw it in those church members—when I love God, and I know that God created other people regardless of their color as much as He made me, I don't have a problem with racism. It's solved."
Before it's here, it's on the Bloomberg Terminal.
LEARN MORE