Chris Christie Approval at 30 Percent Low in Run Up to 2016 Decision
Elise Young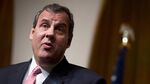 New Jersey Governor Chris Christie's approval rating with state voters fell to a record low in June, as he nears a decision on whether to run for president, according to the latest Fairleigh Dickinson University poll.
The 52-year-old Republican's rating slipped to 30 percent, down 6 points since April, the university's PublicMind Poll found. Fifty-five percent of New Jersey registered voters now disapprove of the job Christie is doing, up five points.
"The good news is that none of his potential presidential opponents have emerged with a decisive lead yet," Krista Jenkins, director of the poll, said in an e-mail. "The bad news is that he is the governor in a state where a sizable majority give a thumbs down to his leadership."
The telephone survey of 792 registered voters took place June 15 through June 21. Released Tuesday, it has a margin of error of plus or minus 3.7 percentage points.
Christie's soaring approval during the Hurricane Sandy recovery began to turn as his administration was linked to politically motivated traffic jams at the George Washington Bridge and his promised economic turnaround failed to take root.
State unemployment remained high as neighboring states and the U.S. recovered all jobs lost during the 18-month recession. When revenue fell below estimates, Christie skipped billions of dollars in promised pension payments. Twenty-three percent of those voters surveyed named pensions as the state's biggest problem, while 21 percent cited unemployment.
Amid nine credit downgrades, a record for a New Jersey governor, Christie has traveled to Iowa and New Hampshire for speeches on education policy and foreign relations.
Before it's here, it's on the Bloomberg Terminal.
LEARN MORE