O'Malley Urges Removal of Confederate Flag After Charleston Shooting
The former governor of Maryland made his plea four days after the shooting. Most candidates have sidestepped the issue of South Carolina's Confederate flag.
by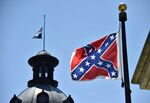 Democrat Martin O'Malley on Sunday became the first presidential candidate to call unequivocally for South Carolina to take down its Confederate battle flag after a 21-year old white man shot and killed nine people at a historic black church in Charleston.
"What a terribly jarring and callous sight then—in the wake of this racist massacre—to see the American flag at half staff, while above it at full staff over the state Capitol of South Carolina flew a Confederate flag," O'Malley said in a speech Sunday to the U.S. Conference of Mayors in San Francisco, according to a transcript provided by his campaign. "If the families of Charleston can forgive, can let go of their anger, is it really too much to ask the state government officials of South Carolina to retire the Confederate flag to a museum? America must do better."
The shooting has sparked a variety of calls for removing the battle flag of the old Confederacy, seen by many as a racist symbol, from state grounds. President Barack Obama believes it "belongs in a museum," White House Press Secretary Josh Earnest told reporters at Monday's White House briefing, hours before South Carolina Governor Nikki Haley was scheduled to address the press. "In the mind of the president, yes, it's pretty clear what should happen," Earnest said, adding: "The president obviously doesn't have the authority to make it happen."
South Carolina state Representative Doug Brannon, a Republican, has said he'll introduce legislation to take the battle flag down. But most presidential candidates aren't going there.
Democratic front-runner Hillary Clinton strongly condemned the shooting as a reminder that "America's long struggle with race is far from finished" and called for stricter laws to end gun violence. Though she hasn't publicly discussed the state's Confederate flag since the shooting, Clinton's campaign referred Bloomberg to a comment she made to a reporter in 2007: "I personally would like to see it removed from the Statehouse grounds." A campaign spokesman said she continues to hold this view.
Senator Bernie Sanders of Vermont called the rampage "an act of terror" and a reminder that "we are far from eradicating racism." He called for the flag's removal in an e-mailed statement on Monday afternoon.
Among Republican candidates, former New York Governor George Pataki called for the removal of the flag on Monday. "In the 21st Century, that flag shouldn't be on the Capitol ground in the state of South Carolina," he said on Fox News. "I think they'll do the right thing. They'll remove the flag." He made a similar comment on Twitter.
The rest have largely sidestepped the issue of the flag by deferring to South Carolina on whether to keep to remove it. That includes Senator Marco Rubio of Florida, Wisconsin Governor Scott Walker and Senator Ted Cruz of Texas. Jeb Bush, who ordered the Confederate flag removed from state grounds when he was governor of Florida, stopped short of calling on South Carolina to do the same.
The debate was elevated on Saturday when 2012 Republican nominee Mitt Romney explicitly called for taking down the flag in the wake of the shootings, decrying it as "a symbol of racial hatred."
Carly Fiorina, the former Hewlett Packard CEO who is running for the Republican presidential nomination, said she agrees with Romney. But like her Republican rivals, she said the decision should be up to South Carolina.
Jennifer Epstein, Freeman Klopott and Angela Greiling Keane contributed reporting.

Before it's here, it's on the Bloomberg Terminal.
LEARN MORE