Chinese Billionaire Clinton Fan Sees 'Friendly' Presidency
Bloomberg News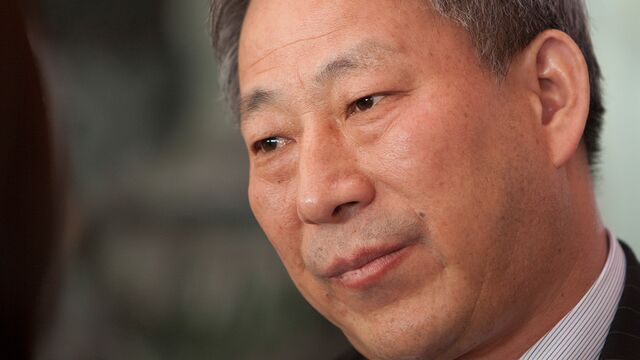 A Hillary Clinton presidency would be "friendly" toward China despite the perception the architect of the U.S. military rebalance to Asia was a combative secretary of state, according to Chinese billionaire Yan Jiehe.
Yan Jiehe said he has met former U.S. President Bill Clinton at least five times since 2010, with Clinton attending the Shanghai wedding celebrations for Yan's son, and met Hillary in the U.S. A sizable donor to the Clinton Foundation, Yan is the founder of China Pacific Construction Group.
If she clinches the Democratic Party nomination and then the presidency in 2016, Hillary Clinton would face a resurgent China that is challenging decades of U.S.-led economic and military order. Her time as secretary of state from 2009 to 2013 is already being scrutinized for how she'd confront the prospect of China as a major global power.
Clinton in 2011 articulated what became America's economic and military "pivot" to Asia, a move that's frequently been described by China as an effort to contain it in the region.
As president would she continue to press President Xi Jinping on human rights? Or to tone down China's assertiveness in the disputed South China Sea? With China the U.S.'s second-biggest biggest trading partner, Clinton as president would carry a more nuanced message, Yan, 55, said.
"Hillary Clinton will become the next president, there's no one in the U.S. who could compete with her," Yan said in an interview in his Beijing offices on June 13. "Lots of people say she's not as friendly as her husband on China policies. But I believe she won't hold up her tough stance on China once elected."
More Communication
Yan said he told his "good friend" Bill Clinton at a company-organized conference in Guangzhou last July that Russia would be the only beneficiary if China's ties with the U.S. deteriorate.
"China has been changing from the time when Mrs. Clinton was secretary of state, and to become a strong economic power today," said Yan. "She'll not ruin the relationship between the U.S. and China," he said. Clinton "will have more communication with China after she's elected, and that could help her to better understand China."
Clinton in an October 2011 article for Foreign Policy setting out the philosophy that underpinned the U.S. "pivot" described Asia as "critical to America's future." China had "prospered as part of the open and rules-based system that the United States helped to build and works to sustain," she said.
"Today, China represents one of the most challenging and consequential bilateral relationships the United States has ever had to manage," Clinton wrote.
South China Sea
As secretary of state she pressed China on its human rights record and its territorial aspirations, drawing criticism from officials in Beijing in 2013 when she said the U.S. supported Japan's administration of islands in the East China Sea also claimed by China.
In 2012 the official Xinhua news agency accused Clinton of meddling on the South China Sea and the U.S. of "favoring confrontation instead of cooperation." The commentary followed Clinton's call at a meeting of Southeast Asian nations in Cambodia for claimants to quickly complete a code of conduct for the waters -- a gathering that ended in squabbling and a failure to issue a joint communique.
"Many Chinese see Hillary Clinton as a hardliner," said Zhang Baohui, director of the Center for Asian Pacific Studies at Lingnan University in Hong Kong. "They believe she was the main architect of the Asia pivot."
'Power Transition'
"My own view is that a Hillary administration's China policy would not be that different from Obama's," Zhang said. "Their China policies are shaped by the same competitive dynamics of power transition. No matter who is president, he or she would pursue a policy that seeks to contain China's rising power and influence."
Multiple calls to the Clinton campaign and President Clinton's office seeking comment were not responded to. The Clinton Foundation declined to comment.
In his Beijing office in a military compound that's separated by a wall from the Communist Party's top training center, Yan said his friendship with the Clintons enables him to send messages to global political elites.
"For the government it is not convenient to say but private businessmen like me can speak out," said Yan. In the Guangzhou meeting, Yan said he told Bill Clinton that Xi will not become a totalitarian leader like Mao Zedong.
"I told that to Mr. Clinton because I want the international community to support the reform of President Xi, and to support him as a person," said Yan. He said he explained to Clinton that Xi is accumulating power in order to conduct reforms.
Clinton Donor
A billionaire from a middle class family in eastern Jiangsu province, Yan made his fortune in infrastructure, securing contracts from local governments. The company has built projects from interprovincial highways to bridges, and is constructing a new town in the western city of Lanzhou. Revenue reached $59.6 billion in 2013, said Yan, and last year the company ranked 166th on the Fortune 500 with assets of $30.2 billion.
China Pacific controls Beijing Huaduo Enterprise Consulting Company Ltd., which donated between $250,001 and $500,000 to the Clinton Foundation, according to the foundation's website. The foundation, which builds partnerships between business, governments and non-government organizations, didn't specify the date of the donation.
Yan said Bill Clinton was a guest at a banquet in November 2011 for the wedding of Yan's only son, where guests sipped Chinese Moutai liquor and dined on sea cucumbers.
'About Respect'
"Money is not an issue to invite people like Mr. Clinton to visit China," said Yan. "I could spend millions or tens of millions of yuan to invite them. It's not about money -- and I don't count small numbers -- it's about respect."
Ji Wei, a company employee who handled the invitation of Bill Clinton, said the total cost of the Guangzhou meeting attended by a number of former country leaders was about 200 million yuan ($32.2 million), including travel expenses and appearance fees.
Bill Clinton has been invited by at least four Chinese companies via the Clinton Foundation to give speeches, including e-commerce giant Alibaba Group Holding Ltd., according to the firms listed on the foundation's website.
— With assistance by Keith Zhai, and Clement Tan
Before it's here, it's on the Bloomberg Terminal.
LEARN MORE