All Eyes on Governor Nikki Haley as South Carolina Rethinks Confederate Flag
The Republican recommended that the controversial piece of state history be removed.
by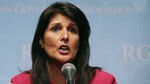 The fate of South Carolina's Confederate flag came down to the state's unlikely governor, an Indian-American woman elected in the aftermath of her predecessor's extramarital affair.
Republican Governor Nikki Haley, 43, the daughter of Sikh immigrants, recommended removing the controversial relic of her state's history from the state capitol building. "Today we are here in a moment of unity in our state without ill will to say it is time to remove the flag from our capitol grounds," Haley said at a press conference.
 
Haley's stance on the flag in the aftermath of the shooting rampage at Charleston's Emanuel African Methodist Episcopal Church comes after a  long campaign to take her place among the state's male patriarchy, after 232 years of white men in the governor's chair.
Haley's parents, Ajit and Raj Randhawa, are Punjabi Sikh immigrants who moved to the small town of Bamberg, South Carolina, in 1969, after a stop in Canada. "We were the first Sikh family in Bamberg," her father, a professor of biology, told Lavina Melwani of the blog Lassi with Lavina. "It was a small town in South Carolina, a closed community at that time." They gave birth to Nikki—Nimrata Nikki Randhawa—in 1972. Her older brother, Mitti, has said that she was a tomboy in childhood; all the same, when Haley was about five, her parents entered her and her sister, Simran, in the Little Miss Bamberg pageant.
The judges would pick one black queen and one white queen. They weren't sure what to do with these two girls of Indian heritage, and so, according to the New York Times, they disqualified them. But first, Haley performed a rendition of Woody Guthrie's "This Land Is Your Land."
People in South Carolina "didn't know much about the Indian culture, and we didn't know much about how to teach it to them," she told Vogue. Her father wears a turban, and her brother was teased for growing his hair.
"It's survival mode," Haley told the Times. "You learn to try and show people how you're more alike than you are different."
She has credited her decision to run for office to a speech given in 2003 by Hillary Clinton, a Democrat. In 2004, Haley ran for the South Carolina House of Representatives against a Republican incumbent named Larry Koon, the longest-serving member of the House. (He had been a representative since 1975). She won, following a run-off. But the race grew ugly first. 
One fellow legislator called Haley a "raghead." A former employee of hers, and a former employee of Koons's, came forward alleging that they had affairs with her. Campaign fliers compared a "white male/Christian/business owner" to an "Indian female/Buddhist/housekeeper." She categorically denied the claims.
Haley is, in fact, Christian; she converted in the 1990s. She married Michael Haley, a combat veteran who has served in Afghanistan's Helmand Province, in two ceremonies in 1996: one Methodist, one Sikh. Their two children, Nalin and Rena, now teenagers, were baptized Methodist.
Haley was elected governor in 2010, after former Governor Mark Sanford admitted to having an extramarital affair. She was endorsed by Sanford's wife, Jenny Sanford, and by former Massachusetts governor and Republican presidential candidate Mitt Romney.
Haley's ascendance is a point of pride on many Indian and Indian-American websites and venues. New Delhi Television reported last September that Haley met India's Prime Minister Narendra Modi in New York. "Ms Haley is also the third non-Euro-American person to have been elected the governor of a Southern state," they noted. "The other two are Virginia's L Douglas Wilder and Louisiana's Jindal."
Her parents—who were also set to meet Modi— seem to embrace the decisions their daughter has made. "We allowed our children to follow their dreams in whatever profession they set their mind to," he told Melwani in 2010. "So long as children believe in God and have an abiding faith in God, the virtues become a part of your psyche."

CORRECTION: This article was updated to indicate Haley is 43 and make clear that the Confederate flag isn't the official state flag of South Carolina.


(Corrects previous version of this story to indicate Haley is 43 and make clear Confederate flag isn't the official state flag in South Carolina.)
Before it's here, it's on the Bloomberg Terminal.
LEARN MORE