'I'm From New Jersey' Writer Dies Along With Dream of State Song
Stacie Sherman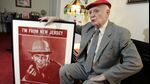 Red Mascara spent 55 years trying to persuade New Jersey lawmakers to make his tune the state song. He died an unsung hero.
Mascara, whose birth name was Joseph Rocco Mascari, died June 20 at 92, according to the Devlin Funeral Home in Phillipsburg. Daniel Goodman, a filmmaker who was working on a documentary about Mascara, said the songwriter had a major stroke.
A retired chemical worker, Mascara lived in Phillipsburg, the hometown of former Governor Robert Meyner. He wrote the song in 1960 after Meyner, a Democrat who served from 1954 to 1962, lamented that there was no state song to play at his appearances.
A bill declaring "I'm From New Jersey" the state song passed the legislature in 1972, only to be vetoed by then-governor William Cahill. On many websites, Mascara's tune is referred to as the unofficial state song.
Mascara, a 5-foot-5, 135-pound grandfather of four and great-grandfather of one, was a regular at the Statehouse on voting days, weaving among politicians, lobbyists and reporters and giving out candy.
The verses of Mascara's song go like this:
"I'm from New Jersey and I'm proud about it I love the Garden State.
I'm from New Jersey and I want to shout it. I think it's simply great.
All of the other states throughout the nation may mean a lot to some;
But I wouldn't want another; Jersey is like no other; I'm glad that it's where I'm from."
The best part about the song, Mascara said in a 2005 interview, was that it was adaptable to most municipalities. He demonstrated with lyrics for towns including Camden, the nation's most dangerous city.
In December, a bill that would have made "I'm From New Jersey" the state song passed the Senate with a 28-3 vote. It had "significant support" in the Assembly, said Goodman, the filmmaker, but hadn't been scheduled for a vote.
"He came really close in the end," Goodman said.
Before it's here, it's on the Bloomberg Terminal.
LEARN MORE