Hillary Clinton Calls for Gun Reforms in Speech to U.S. Mayors
Alison Vekshin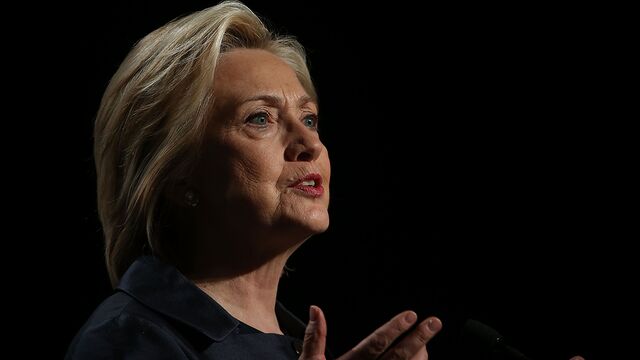 Hillary Clinton called for an end to gun violence and said the country's long struggle with race is far from finished after a mass shooting at a South Carolina church this week left nine people dead.
Clinton, 67, didn't offer specific solutions beyond pledging to fight "for common-sense reforms" and bemoaning gridlock in Congress over legislation to require universal background checks for people buying guns.
"It makes no sense that we couldn't come together to keep guns out of the hands of domestic abusers or people suffering from mental illnesses, even people on the terrorist watchlist," Clinton, a Democratic presidential candidate, said Saturday at a U.S. Conference of Mayors meeting in San Francisco. "That doesn't make sense and it is a rebuke to this nation that we love and care about."
Clinton's speech was one of her first major addresses after the national tragedy and as she makes her case for the White House. The former senator, secretary of state and first lady echoed President Barack Obama's remarks at the mayors' event on Friday in which he said mass shootings were becoming too commonplace and called for curtailing easy access to firearms.
"We can have common-sense gun reforms that keep weapons out of the hands of criminals and the violently unstable while respecting responsible gun owners," Clinton said to a standing ovation.
Wednesday night's rampage by a lone gunman at Charleston's Emanuel AME Church is the latest in a string of such tragedies, including the school shooting in Newtown, Connecticut, and the movie-theater massacre in Aurora, Colorado, in 2012.
Racism Pervasive
Clinton told the mayors the incident illustrates that racism is still pervasive in the U.S., noting that blacks are more likely than whites to be denied a mortgage and black men are more likely to be stopped and searched by police.
"It's tempting to dismiss a tragedy like this as an isolated incident, to believe that in today's America bigotry is largely behind us," Clinton said. "But despite our best efforts and our highest hopes, America's long struggle with race is far from finished."
Clinton, who in April announced her bid to become the nation's first female president, is running on a message of championing everday Americans, including tackling income inequality, supporting gay rights and helping immigrants become citizens. She gave her first stump speech June 13 on New York's Roosevelt Island, outlining a populist agenda aimed at girding the middle class.
277 Mayors
Chicago Mayor Rahm Emanuel and Los Angeles Mayor Eric Garcetti were among the 277 U.S. mayors registered to attend the four-day annual conference where Martin O'Malley, a Democratic presidential candidate and former Maryland governor, is scheduled to speak Sunday.
"Mayors around the country are pretty tired of dealing with the inability of Congress and state legislatures to be more aggressive and constrain gun possession in a country where gun access is ubiquitous," Sam Liccardo, mayor of San Jose, California, said after Clinton's speech.
Clinton didn't offer details on gun-control legislation she'd push for if elected, Liccardo said.
"We recognize this wasn't a policy speech," Liccardo said. "I don't think any of us were waiting for specifics. On the other hand, I'm hopeful there will be some leadership on the federal level for real change because it hasn't been there."
Before it's here, it's on the Bloomberg Terminal.
LEARN MORE