Washington Has No Answers to Charleston Shooting
From the president to those campaigning to be the next one, there was little hope that the government could do anything to help stop the next shooting.
by , , and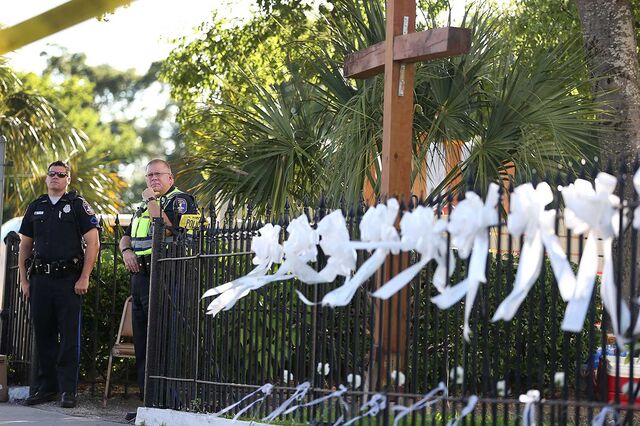 Hours after the news of a massacre at a South Carolina church, President Barack Obama was on a plane to the West Coast for a series of fundraisers after calling for more gun control but acknowledging it wouldn't happen. The Democratic front runner for his job called for public officials to act but didn't recommend how. Republican presidential candidates offered condolences. One, Louisiana Governor Bobby Jindal, accused the president of trying to "score cheap political points" by raising the gun issue.
Though some politicians cancelled public schedules in the face of the tragedy and the South Carolina legislature put off debating controversial bills in honor of the colleague who died in the fusillade, the violence left the nation's leaders as polarized as ever.
For Obama, who barreled into the national spotlight 11 years ago promising that "there is not a black America and a white America," the apparently racially-motivated shooting neatly defined the limits of his idealism and his power.
Finding himself once again at the intersection of two intractable challenges for American society—racial tension and gun violence—Obama set about what has become a grim routine, offering comfort for the grieving, a promise of help in the investigation and condemnation of senseless violence.
As he did in the wake of other spasms of public violence, Obama decried the the easy access to firearms that made it possible. But unlike after those past instances, there was no promise to find a solution. The visibly exasperated president ignored a question from reporters about what he might propose. 
"At some point, we as a country will have to reckon with the fact that this type of mass violence does not happen in other advanced countries," he said. "And at some point it's going to be important for the American people to come to grips with it, and for us to be able to shift how we think about the issue of gun violence collectively."
'Political realities'
That time, he acknowledged, is not now.
"The president was clear today about the political realities we do face," Eric Schultz, a White House spokesman said. "I don't think the president's expecting Congress to move on this any time soon."
After the massacre of 20 children at a school in Newtown, Connecticut, in 2012, Obama promised action. But attempts to advance gun control legislation, requiring stricter background checks on firearms buyers, foundered. Congress refused to fund research on gun violence. There were no new proposals Thursday.
At a Democratic National Committee fundraiser in Los Angeles at the end of the day, Obama was vocal about his frustrations. If people are frustrated "every few months we have a mass shooting," the president told financial backers, they should "mobilize and organize a constituency that says that is not normal." 
Since the late 1990s, pro-gun groups have given more than $900,000 to Palmetto State officials, with Lindsey Graham—the state's senior senator and a 2016 candidate for the Republican nomination—receiving more than $100,000, compiled by the Center for Responsive Politics, the National Institute of Money in State Politics and made available by the Sunlight Foundation. The total contributed by pro-gun control groups over the same period: $6,500.
The closest any of the 2016 presidential candidates came to discussing gun control was Hillary Clinton. In a speech to Latino elected officials in Nevada, she asked: "How many people do we need to see cut down before we act?" It was a rhetorical question to which she offered no specific answer, carefully avoiding an explicit call for gun control.
'Senseless loss'
Statements from the Republicans running for their party's nomination included  condemnations of violence at a church and calls for justice.
"Our hearts are broken at the senseless loss of life," former Florida Governor Jeb Bush said in a statement e-mailed by his campaign after he cancelled a planned appearance in Charleston. "May the families and the city of Charleston be lifted up by the prayers of our entire nation."
Rand Paul lamented a "sickness" in society but said government can do nothing to resolve it.
Two presidential candidates at opposite ends of the ideological spectrum did confront the racial aspect of the killings, which police say were carried out by a white man who appears to have allied himself with white supremacist groups.
"In my lifetime I have seen such great progress,'' Republican candidate Ben Carson, who is black, wrote on Facebook, adding, ''Though racial based hate is still very much alive as last night so violently reminded us.''
In a statement on his Senate website, Senator Bernie Sanders, a socialist running for president as a Democrat, described the shootings at the predominantly black Emanuel AME Church in Charleston as ''a tragic reminder of the ugly stain of racism that still taints our nation.''
'A dark part in our history'
Obama, the nation's first black president, has spoken out more forcefully about racial tension in the wake of unrest sparked by recent shootings of blacks by police. In his remarks Thursday he noted that Emanuel AME had once been burned to the ground because worshipers there worked to end slavery and once had to conduct services in secret.
''The fact that this took place in a black church obviously also raises questions about a dark part of our history,'' he said. ''And we know that hatred across races and faiths pose[s] a particular threat to our democracy and our ideals.''
Some presidential candidates—including Bush, Graham and real estate mogul Donald Trump—canceled events because of the shooting, as did Florida Representative Debbie Wasserman Schultz, who is chairman of the Democratic National Committee.
In the South Carolina legislature, where one of the shooting victims, Clementa Pickney, served in the state Senate, lawmakers put off any partisan debate for the day. "I think every senator there would say they feel like they lost a family member, said Republican state Senator George "Chip" Campsen, head of the Charleston delegation. He demurred when asked about the national gun rights debate.
"I hate to, on a day like this, talk about the political consequences of this," Campsen said. He noted that the legislature passed a bill restricting access to guns for people who are mentally ill but said he doubts such laws can stop killings like those in Charleston.
"You are willing to violate a law against murdering people," Campsen reasoned, "Why would you not violate one restricting your access to guns?"
Contributors: Justin Sink in Los Angeles; Rachel Adams-Heard in Washington
Before it's here, it's on the Bloomberg Terminal.
LEARN MORE