Lawyer for Clinton Confidant Wants Congress to Release Testimony
Republicans are "distorting the truth" with selective leaks from Sidney Blumenthal's closed-door testimony, his lawyer says.
by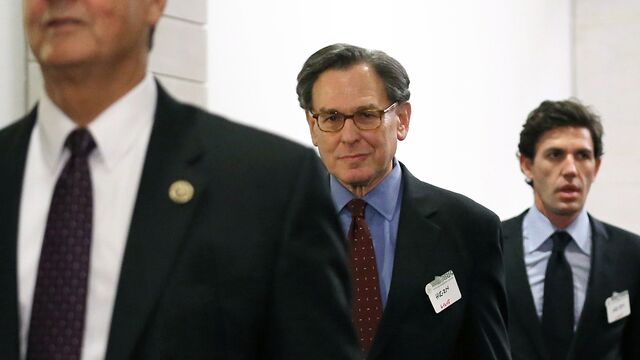 A lawyer for Hillary Clinton confidant Sidney Blumenthal says House Republicans are leaking pieces of his closed-door testimony before the House committee investigating the September 11, 2012 attacks in Benghazi.
James Cole, in a letter dated Friday to the Benghazi panel's chairman, Representative Trey Gowdy of South Carolina, requests the immediate release of Blumenthal's full testimony transcript and related emails because, he writes, these selective leaks are  "distorting the truth."
Blumenthal was called to give a closed-door deposition Tuesday about memos and advice on Libya he sent then-Secretary of State Clinton prior to the attacks on the U.S. facilities in which four Americans were killed.
"There have been numerous leaks and about his emails and testimony many of which have given an inaccurate account of what occurred in the deposition," says Cole's letter. The emails refer to nearly 60 messages produced for the committee by Blumenthal regarding Libya and Benghazi.
Cole adds that "it is unfair to my client" to let this inaccurate record persist of his testimony, which was given behind closed doors on Tuesday.
Cole cites several specific press accounts carrying such "selective details" he says were released by members or staffers of the committee. The list includes one story published by Bloomberg News the day after Blumenthal's testimony.
Stories by the National Review, Politico, and Fox News were also cited by Cole.
Gowdy and committee Republicans had no comment about the letter, which was released by a spokesman for committee Democrats, Paul Bell.
Cole's letter comes as Democrats on the House Select Committee on Benghazi have themselves been calling for release of the complete transcript of closed-door testimony, along with related e-mails.
The panel's top Democrat—Elijah Cummings of Maryland—said in a statement earlier Friday the committee has, since Blumenthal's testimony on Tuesday, "become a sieve, with anonymous 'sources' repeatedly leaking selected excerpts of Mr. Blumenthal's emails out of context."
Cummings said the transcript reveals exactly how Republicans are spending taxpayer dollars -- investigating Clinton "and her personal relationships rather than the attacks in Benghazi," he said in the statement.
"It's time to end this circus," Cummings said. "The Committee should immediately release all of Mr. Blumenthal's emails and his full deposition transcript together."
Earlier this week, all five Democrats on the panel said they want Republicans to release publicly the full transcript of the committee's hours-long deposition Tuesday with Blumenthal.
In a letter to committee Chairman Trey Gowdy of South Carolina released Wednesday, the Democrats said, "Rather than selectively leaking only certain information about Mr. Blumenthal, the American people deserve the benefit of Mr. Blumenthal's responses to the hundreds of questions that you and other Select Committee Members asked him, including questions about these same emails."
Before it's here, it's on the Bloomberg Terminal.
LEARN MORE