California Lawmakers Move to Merge Water Agencies Amid Drought
James Nash and Alison Vekshin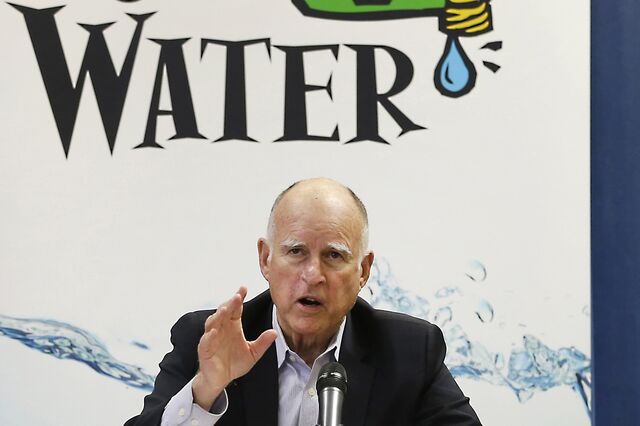 California lawmakers are poised to pass a bill allowing regulators to merge some of the state's 8,000 public water systems as a record drought depletes supplies.
The legislation, one of two dozen needed to enact the $115.4 billion state budget, has sparked a fight between Governor Jerry Brown's administration and leaders of tiny water districts that date back to California's era of dusty ranchos.
Proponents say the legislation would shore up safe drinking water for dozens of communities that either have run out of water or whose supplies are contaminated. The current patchwork of large and small water purveyors is ill-suited to the parched landscape, said Brown's budget director Michael Cohen. The state's water agency lobby is fighting the bill as an infringement on local control.
"Drought is causing us to have to do all sorts of things that the government hasn't had to do, and we wanted to give them new tools to make sure that those water districts that are struggling can be absorbed into other districts," Cohen said Tuesday at a news conference in Sacramento.
California's vast network of water agencies vary in size from the Los Angeles Department of Water and Power, serving 3.9 million people, to an agency supplying 12 people near Lake Tahoe. Four years of drought are depleting all of them, and causing a few areas to run completely dry.
The legislation would authorize the state Water Resources Control Board to order districts that consistently fail to provide "an adequate supply of safe drinking water" to merge with other districts. A public hearing would be required.
Centralized Approach
"We are more than willing to sit down with members of the legislature to talk about how to provide safe drinking water to disadvantaged communities," said Tim Quinn, executive director of the Association of California Water Agencies. "We don't think it should be dictated by some centralized approach coming from Sacramento."
Poorer communities in the state's inland San Joaquin Valley would benefit, said Omar Carrillo, a policy analyst at the nonprofit Community Water Center, which advocates for safe drinking water.
He cited the example of East Porterville, a community of about 6,700 on the eastern edge of the valley where people bathe in portable showers supplied by trucked-in water. Bringing East Porterville into a larger district could make water flow through taps again, Carrillo said.
"You have people on public water systems, or private wells, that through the passage of time and additional contaminants, are at risk," he said.
In a June 10 letter to members of the legislature, the Association said consolidations would not provide timely relief to those drought-stricken communities. Rather, areas on the brink are being provided trucked-in drinking water under mutual aid agreements, the Sacramento-based association said in its letter.
"Consolidations of water purveyors are complex and take time," the letter said.
Credit Concerns?
Forcing consolidation of water agencies could weaken the larger, more urban districts forced to take on the smaller, agricultural ones, said Howard Cure, director of municipal credit research in New York for Evercore Wealth Management LLC, which oversees $5.9 billion.
"For the smaller districts, it could be pretty significant," Cure said. "Overall, we're not talking about huge amounts of consolidation but there are plenty that need help and the way the water system is set up, it's very proprietary, in that there's not a lot of sharing going on unless there's an economic reason to do it."
Before it's here, it's on the Bloomberg Terminal.
LEARN MORE