Susan Rice on Hillary Clinton's Accomplishments: 'Instrumental' in Asia Pivot
That includes the Trans-Pacific Partnership, says President Obama's national security adviser.
by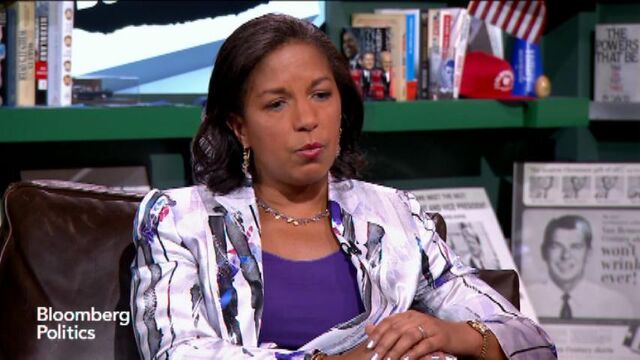 Hillary Clinton is pulling away from the White House on the Trans-Pacific Partnership, but formulating a new diplomatic posture toward the Asia-Pacific region—which included pushing the trade deal—was one of her biggest accomplishments as secretary of state, National Security Advisor Susan Rice says.
In an interview with Bloomberg's With All Due Respect set to air Thursday, Rice said the Democratic presidential candidate "was instrumental in formulating and implementing the rebalance to Asia, of which the Trans-Pacific Partnership is a part," as the U.S.'s top diplomat.
Amid pressure from the left wing of the party and a Democratic rebellion in the House that put up big obstacles to passage of the trade deal, Clinton has said President Barack Obama should negotiate for more concessions for American workers. She previously said she would reserve judgment on the deal until she'd seen whether it sufficiently protected American interests.
The president's pivot has aimed to make the Asian and Pacific countries more central to U.S. foreign policy after years in the Middle East, manage territorial conflicts and other clashes between the region's powers, and foster trade.
Rice, who served as the United States' ambassador to the United Nations alongside Clinton, also credited the Democratic front-runner with helping "to bring to conclusion two long and costly wars, in Iraq and Afghanistan," and with fostering development initiatives "in the realm of health and food security" as well as women's rights.
She said, though, that the Obama administration should share the credit for any accomplishments. The Clinton campaign declined to comment. See the full interview at 5 p.m. ET on With All Due Respect on Bloomberg TV and BloombergPolitics.com.
—Jennifer Epstein contributed reporting.
Before it's here, it's on the Bloomberg Terminal.
LEARN MORE