Sunshine State Spat: How Marco Rubio and Jeb Bush Keep Trolling Each Other
The senator responds to zingers coming his way from the former governor and his backers.
by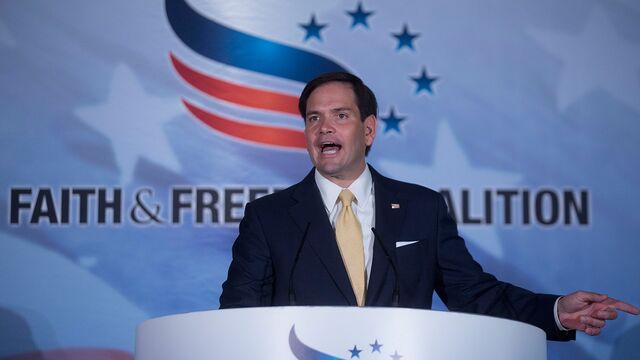 Tensions simmered Thursday between Florida's two Republican presidential candidates as Senator Marco Rubio responded in kind to sidelong attacks earlier this week from Jeb Bush and the ex-Florida governor's allies.
The two home-state rivals, who see each other as a threat to winning the Republican nomination, have been trading barbs in public speeches without mentioning the other.
"There are those seeking the presidency based solely on what they've done in the past. I'm running for president because what we need now are leaders and solutions that are grounded in the future," Rubio said in a speech at the Faith & Freedom Coalition meeting in Washington. The 44-year-old senator added that "outdated policies from yesterday" won't fix today's problems.
It was an apparent response to Bush. The 62-year-old former two-term governor of Florida not only heavily emphasized his experience on Monday when announcing his presidential candidacy in Miami, but took a jab at some of his rivals for good measure.
"There's no passing off responsibility when you're a governor, no blending into the legislative crowd or filing an amendment and calling that success," Bush said, launching an arrow at Rubio as well as the other senators in the Republican presidential field. "We are not going to clean up the mess in Washington by electing the people who either helped create it or have proven incapable of fixing it."
In his remarks to the Faith & Freedom Coalition, Rubio took on that and more.
He also addressed arguments by Bush allies who told Bloomberg earlier this week that the senator was "too young" or "impulsive" or unready to be president. Rubio reminded the crowd that many Republican establishment figures didn't think he had a prayer of victory in his 2010 Senate race, but that he ran because he concluded that the U.S. must not "keep promoting the same leaders."
"There are those who say, 'Oh, we like Marco but we support someone else because now is not his time, but he has a good future.' Well that's good news because this election's in the future," he said, as the crowd laughed.
It was the latest in a series of barbs traded between the two candidates.
On Monday, Bush responded to Rubio's remark in his April launch speech: "I have heard some suggest that I should step aside and wait my turn. But I cannot," the senator said.
"It's nobody's turn," Bush fired back. "It's everybody's test, and it's wide open—exactly as a contest for president should be."
The tension is likely to intensify in the coming weeks and months, with the two Floridians polling toward the top of the field and neck and neck in many polls.
Bush is slated to speak at the Faith & Freedom Coalition meeting on Friday. 
Before it's here, it's on the Bloomberg Terminal.
LEARN MORE