Obama Trade Bill Passes House as Senate Now Controls Fate
Carter Dougherty and Billy House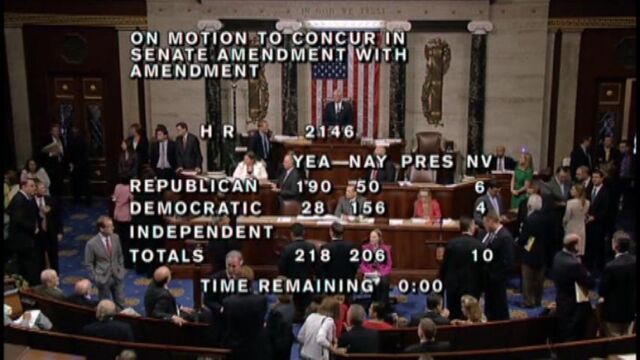 The U.S. House passed President Barack Obama's fast-track trade bill, one of the president's top second-term priorities, with mostly Republican votes a week after a Democratic rebellion almost killed the proposal.
The 218-208 House vote Thursday returns the measure to the Senate, which also voted for it last month. Obama wants the expedited trade negotiating authority to help his administration complete a 12-nation Trans-Pacific Partnership.
Senate action is likely next week, as the chamber has no more roll-call votes scheduled for this week.
Twenty-eight House Democrats, including Representatives Debbie Wasserman Schultz of Florida and Terri Sewell of Alabama, voted for the measure. And 50 Republicans, including Representatives Chris Collins of New York and Daniel Webster of Florida, voted against it.
"This is a vote for a stronger economy and higher wages. This is a vote for our system of free enterprise. This is a vote for American leadership," said House Ways and Means Committee Chairman Paul Ryan, a Wisconsin Republican, on the floor before the vote.
The measure, known as trade promotion authority, would let Obama submit trade agreements to Congress for an expedited, up-or-down vote without amendments. It would give the authority to Obama and the next president for six years as part of a package that revamps U.S. trade policy into the next decade.
Workers' Aid
With fast track through the House, attention now turns to how its backers will make good on a pledge to ensure that a separate program aiding displaced workers also is enacted. Passing both measures is a long-standing political agreement between backers of fast track, even though most Republicans oppose it.
House Democrats, who have been supporters of worker assistance, voted against it last week because the vote was legislatively linked to fast track -- something that is no longer the case.
A senior House Republican member said that, in private talks, Obama has promised he'd sign fast-track once it's passed to ensure that House Democrats can't continue the political linkage between the two proposals. The lawmaker requested anonymity because Obama hasn't publicly stated this.
White House Stance
Asked for comment, the White House pointed to remarks Wednesday by White House press secretary Josh Earnest that "the only legislative strategy" that the president would support is one in both the fast-track and worker-aid measures reach Obama's desk. Such a strategy "will require the support of Democrats in both the House and the Senate," Earnest said.
On Thursday, deputy White House press secretary Eric Schultz reiterated that stance, saying, "The president's been clear he wants both TPA and TAA at his desk for a signature as soon as possible."
House Speaker John Boehner, an Ohio Republican, predicted that the Senate would pass both, with worker assistance attached to a bill promoting commerce with poorer countries, possibly next week.
"I'm also confident that the Senate can consider both TPA again and trade adjustment assistance as part of the preferences package that hopefully will be back here as soon as next week, so we can move both of these to the president," he said.
Despite assurances by Republican leaders in both chambers there will be action on both measures, Minority Leader Nancy Pelosi of California and other House Democrats say they worry that the worker's assistance program won't be renewed.
'Gone Goose'
"I see it as a gone goose," said House Rules Committee top Democrat Louise Slaughter of New York.
Richard Trumka, president of the AFL-CIO, which opposes fast track, said in a statement, "We are at the end of the second quarter and the score is tied 1-1."
"We will fight at every level and in every way to protect American workers and our economy by rejecting fast track and this corporate trade deal," Trumka said.
In an unusual alliance, most Republicans supported Obama's argument that the fast-track measure, known as trade promotion authority, would benefit the U.S. economy. Most Democrats joined with labor unions in blaming free-trade agreements for a decline in U.S. manufacturing jobs.
"When you vote for TPA under these circumstances what we are saying to the administration is this is a blank check," said Sander Levin, the top Democrat on the Ways and Means Committee.
Public-Safety Bill
The fast-track provision was added to a popular public-safety retirement bill, H.R. 2146, that passed the House 407-5 on May 12 and the Senate by voice vote on June 4.
Obama went to the Capitol on June 12 to plead for Democratic support for the fast-track bill just hours before that vote, and he met Wednesday at the White House with a group of House Democrats who back the plan. Other top government officials including Treasury Secretary Jacob J. Lew also lobbied for the expedited negotiating authority.
Republicans also faced opposition to the trade package within their own ranks from members who wouldn't vote for anything strengthening Obama's hand in international negotiations.
Before it's here, it's on the Bloomberg Terminal.
LEARN MORE