Marco Rubio Is Heckled by Immigration Protesters at Faith Summit
The Florida senator's critics on immigration follow him to the Faith & Freedom Coalition meeting in Washington.
by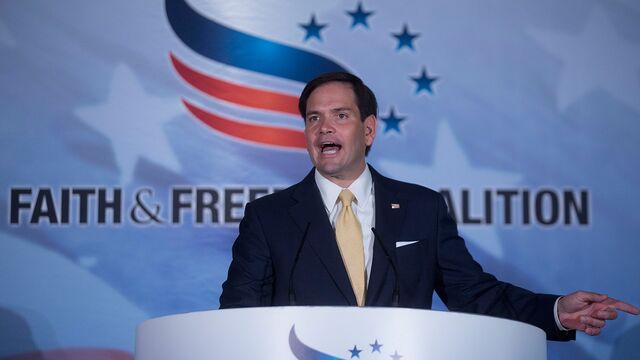 Republican presidential candidate Marco Rubio was interrupted and heckled by undocumented immigrants Thursday while speaking to the Faith & Freedom Coalition meeting in Washington.
Two men stood up during the Florida senator's speech and began shouting that they were undocumented immigrants yelling "protect DACA" and "implement DAPA," referring to President Barack Obama's 2012 and 2014 executive actions to provide deportation relief.
"Why do you keep supporting the deportation of families?" one of the protesters yelled.
"We all want jobs like anybody else!" the other shouted.
They were soon ushered out by security, continuing to chant on the way out and drawing boos from the crowd.
Rubio shrugged off the protesters and noted that in Cuba, the country his parents emigrated from, they wouldn't be able to protest.
"In America people have the right to interrupt speeches. They have the right to be rude. They have a right to be wrong," Rubio said, drawing applause from the crowd.
"Because of him, we're in danger of being deported. Because of him, a lot of our parents are not going to be able to get the resources that DAPA is providing for families," Martin Negrete, a 21 year-old college student who came to protest Rubio, said afterward. "What he has shown us is that he doesn't care about immigrants."
Rubio has a complicated record on immigration reform. He started off against it as a U.S. senator in 2011, embraced a comprehensive bill with a path to citizenship in 2013, and subsequently abandoned that bill after the House rejected it. He now supports a piece-by-piece approach to reform that ends with a path to legal status for unauthorized immigrants. He has said he "would cancel" Obama's 2014 actions, DAPA, and let DACA "end at some point."
Senator Rand Paul of Kentucky, also a presidential candidate and the speaker after Rubio, quipped that he was jealous. "I feel kinda short changed. I was supposed to go first, and Marco goes first. Are there any protesters left?" he said. "Disappointing."
Just three days earlier, Rubio's fellow Floridian, Jeb Bush, was also interrupted by a group of protesters in Miami when announcing his presidential bid. He reacted by endorsing immigration reform—which was not in his prepared remarks. "The next president of the United States will pass meaningful immigration reform so that will be resolved—not by executive order," he said.
—Josh Eidelson contributed to this report
Before it's here, it's on the Bloomberg Terminal.
LEARN MORE