Jeb Bush Takes Scott Walker Washington Riff and Super-Sizes the Critique
Taking shots at Washington is almost never a bad move when running for president.
by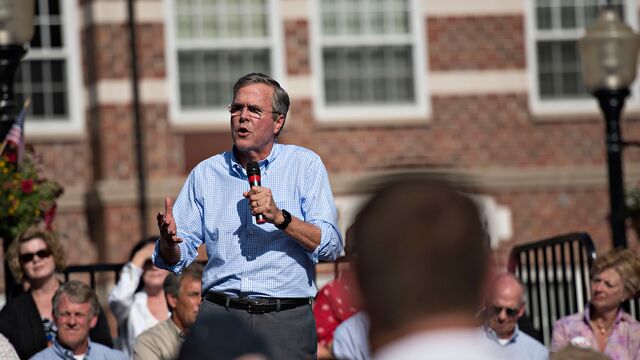 Taking shots at Washington is almost never a bad move when running for president. Likely candidate Scott Walker may have just had one of his more popular lines lifted.
For months, Walker has been getting mileage out of a riff where he notes the Washington metropolitan area has six of the top 10 wealthiest counties in America for median household income.
The Wisconsin governor, a Republican, has used the statistic to make the point that the area around the nation's capital benefits in a big way from the size of the federal government and its spending, both of which he thinks should be restrained.
On Wednesday, Republican presidential candidate Jeb Bush took that line and super-sized it, putting more meat on the bones when it came to statistics about Washington as he rolled out a new element in his stump speech.
"I don't know if you know this: Washington, D.C., has the highest per capita income in the United States," the former Florida governor told more than 300 people gathered to see him in Pella, Iowa.
"Washington, D.C., has average home values of $800,000," Bush continued. "Washington, D.C., doesn't have unemployment. Washington, D.C., has federal workers making significantly more than the private sector workers for lifetime jobs."
Bush, who clearly likes statistics and wonky detail, may have meant to refer to the Washington area as he tried to make his point, since the actual District has plenty of unemployment and poverty. Nonetheless, he said the next president needs to flip the situation around.
"Washington truly believes that it is the master of us, rather than its servant," he said. "The next president of the United States needs to reverse that trend and put it back where it should be, which is as our servant, focused on doing fewer things, but doing them much, much better."
Before it's here, it's on the Bloomberg Terminal.
LEARN MORE