Donald Trump Floats Welch, Kravis, Icahn as Possible Treasury Secretaries
The Republican presidential candidate says he wants to bring better negotiators to the table.
by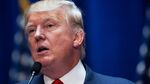 Republican presidential candidate Donald Trump says he has some big names in mind for Treasury secretary if he wins the White House.
"I'd like guys like Jack Welch," the real estate mogul and TV personality said in an interview that aired Thursday on MSNBC's Morning Joe. "I like guys like Henry Kravis. I'd love to bring my friend Carl Icahn."
The men—the former General Electric Co. CEO, the KKR & Co. co-chairman, and a prominent investor—stand in contrast to ineffective trade negotiators in the Obama administration, Trump said.
Countries such as China and Mexico "are taking our business like we're a bunch of babies," said Trump, echoing points he made in his wide-ranging campaign kickoff in New York on Tuesday. "We don't have our best and our brightest negotiating for us. We have a bunch of losers, we have a bunch of political hacks. We have diplomats."
"I know the smartest guys on Wall Street," he continued. "I know our best negotiators. I know the overrated guys, the underrated guys, the guys that nobody ever heard of that are killers, that are great. We gotta use those people."
After rattling off his list of three candidates, Trump said to host Joe Scarborough, "We have people that are better than any of their negotiators. ... We don't use them, Joe. We use people that are soft and weak and frankly stupid and incompetent."
Before it's here, it's on the Bloomberg Terminal.
LEARN MORE