A Woman on the $10 Bill Will Bolster Obama's Legacy
The move represents a bookend for a president who took office in the worst financial crisis since the Great Depression and often has spoken of the economic challenges that women face.
by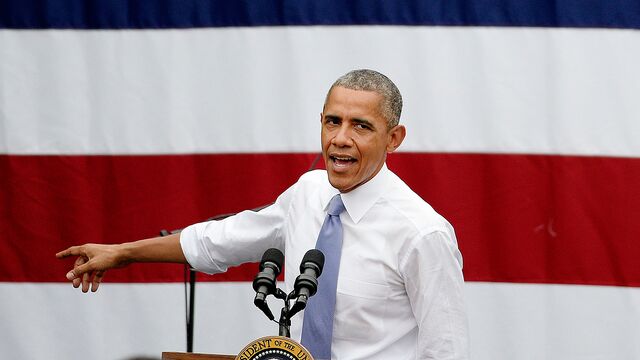 Barack Obama will no longer be the president in 2020 when a woman finally appears on U.S. paper currency—but he will get credit for it.
The decision to put a woman on the $10 bill was announced Thursday by Treasury Secretary Jack Lew, though exactly who the woman will be is still TBD. Still, the plan may give fellow Democrats some girl-power points heading into the 2016 presidential election to decide who succeeds Obama.
Beyond the electoral implications, Lew's move in coordination with the White House represents a bookend for a president who took office in the worst financial crisis since the Great Depression and often has spoken of the economic challenges that women face. In public remarks throughout his presidency, Obama has drawn on the challenges his late mother and grandmother faced and expressed a sense of feminist obligation to his own two daughters, Sasha and Malia.
The first black president also has spent part of his time in office pushing back against criticism that women in his own administration, as is true nationally, earn less on average than men and aren't elevated proportionally to top roles—and he will probably leave office without having had a female chief of staff or press secretary. At the same time, Obama put two women on the Supreme Court, named the first black woman attorney general, and gets credit for a record number of female judges in his first term.
Obama indicated his openness to the currency idea in a speech last July, while Hillary Clinton, the party's leading contender for the nomination next year, responded to a growing national campaign to put a woman on the $20 by tweeting last month that an idea of choosing Harriet Tubman would be "awesome" and "well deserved." Lew, a former Obama chief of staff who took the helm at Treasury in 2013, said the idea has been under discussion for years.
Lew explained that a woman will appear on the $10 instead because it already was due for a makeover to incorporate security and technological upgrades, a process that will take five years.  
"America's currency makes a statement about who we are and what we stand for as a nation," Lew said.
In this lame-duck season, when Obama is having to beg his own party to give him trade legislation that he considers key to his legacy, empowering women symbolically on U.S. bills becomes the latest maneuver on a wide-ranging list of socially progressive or culturally provocative adjustments by the president and his administration after moves on gay rights, racial criminal justice parity and marijuana decriminalization.
Historical figure

Lew said putting a woman on U.S. paper currency was his call, though he shares his views with the president on a "regular basis." He also said it will be his call to choose the woman for the bill. The ultimate decision will be someone who isn't living and who has had a significant impact on U.S. history and democracy. Treasury will spend the summer seeking public input through public meetings and social media. After that outreach, Lew will announce a decision.

While there have been Susan B. Anthony and Sacagawea dollar coins in limited runs, U.S. Treasurer Rosie Rios said the last time women were pictured on U.S. currency was in the 1800s–Martha Washington on a $1 certificate and Pocahontas in a group engraving on some currency.
Neither Lew nor the White House said what if any input the president, first lady Michelle Obama, or top women in the administration had on Lew's thinking. Lew also said the discussions about putting women on U.S. paper money had continued "the entire time that I've been here."
It seemed clear which way Obama was leaning last July in a speech he gave in Kansas City, Missouri.
"Last week, a young girl wrote to ask me why aren't there any women on our currency, and then she gave me like a long list of possible women to put on our dollar bills and quarters and stuff—which I thought was a pretty good idea," he said. In a letter back, Obama thanked her for "such a good idea" and wrote, "I'll keep working to make sure you grow up in a country where women have the same opportunities as men."
Before it's here, it's on the Bloomberg Terminal.
LEARN MORE