Jeb Bush Slow-Jams the News With Jimmy Fallon
No peas in the guacamole in the Bush household.
by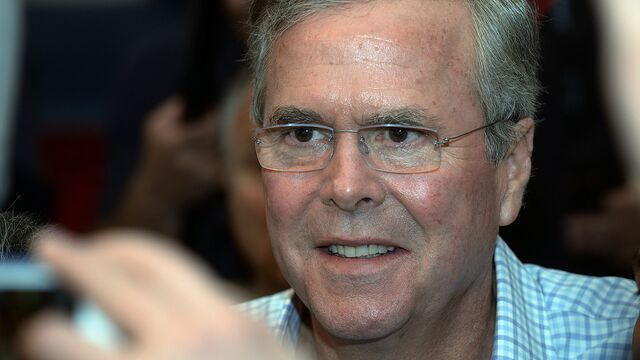 Jeb Bush brought his Republican presidential campaign to the Tonight Show with Jimmy Fallon on Tuesday, where he sipped a coquito cocktail with the host, called his nickname (the initials for John Ellis Bush) "kinda weird," and joked that his message to older voters was the same as that to young voters, "and to them I would say it louder."
Bush, in his first guest appearance on a late-night show since declaring his candidacy, also participated in a "slow jam" with Fallon. The bit, in which Fallon uses double entendres to spice up the news, has previously included President Barack Obama, 2012 GOP nominee Mitt Romney, and New Jersey Governor Chris Christie.  
In the interview with Fallon, Bush talked about his secret recipe for guacamole (no peas, he said) and hit the themes of his campaign, telling viewers that it's "the most extraordinary time to be alive" in America and that there will soon be driverless cars and less disease. "We just have to fix a few things first" so all Americans can enjoy those changes, he said.
Bush also made light of the comparison to his brother and father, both former presidents by saying George W. Bush is "a significantly better painter than I am."
"I'm still doing stick drawings," Bush said.
Before it's here, it's on the Bloomberg Terminal.
LEARN MORE