Jeb Bush Allies Take Aim at Marco Rubio's Youth and Inexperience
As Bush launches his presidential bid, his supporters make the case against Florida's other favorite son.
by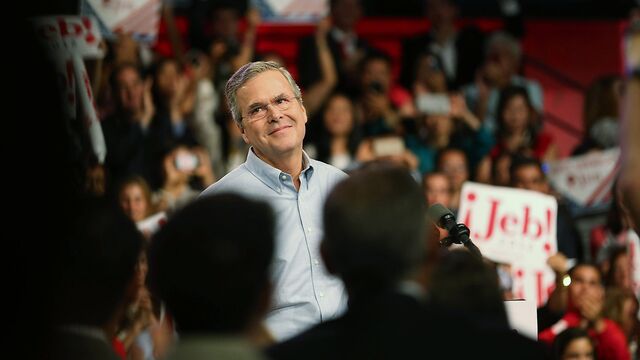 Outside the Miami Dade College building where Jeb Bush had just announced his long-anticipated presidential bid Monday, a group of the candidate's supporters hung around to eat Cuban chicken—and dish about U.S. Senator Marco Rubio.
Sprinkled into Bush's launch, and the lunch afterwards, were broad hints about how the former Florida governor and his team will draw a contrast with the top contenders for the Republican nomination. While Rubio, Wisconsin Governor Scott Walker and Senator Ted Cruz of Texas talk about the need for a fresh face from the party to take on Democrat Hillary Clinton, Bush's counter-punch has been to hold up his record as governor as proof that he can ease the partisan gridlock gripping Washington.
Right now, Bush's allies see Rubio, a Miami neighbor turned presidential rival, as the biggest threat to his nomination. Corroborating that notion: A Quinnipiac Poll out Wednesday shows the younger Florida Republican running even with or better than Bush against Hillary Clinton in three swing states.
Asked if his emphasis on his eight years as governor is meant to put Rubio on the wrong end of an invidious comparison, Bush demurs. But his backers are less coy. They are eager to compare the two Floridians' campaign launch speeches: Rubio's in April offered an emotional narrative of his family's journey from Cuba, without mention of a single policy accomplishment. Bush's, on the other hand, heavily emphasized his executive experience. At lunch after their candidate's launch rally, Bush backers emphasized Rubio's lack of it.
"I like both of them, but I think Marco needs more time. Marco's very impulsive," Harriet V. Carter, a community liaison for Representative Ileana Ros-Lehtinen, a Cuban-American Republican from the Miami area, said at the lunch. Carter, like her boss, is backing Bush over his one-time political protégé. "He's still learning," Carter said of Rubio. "He's had a few missteps along the way."
A speaker who introduced Bush, Florida state Senator Don Gaetz, was hardly subtle in drawing the contrast. "The presidency of the United States does not come with training wheels," he said, to cheers from the crowd. "Jeb Bush is the Florida Republican who can win."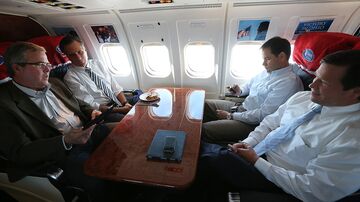 Gaetz said his dig was aimed more at President Obama, who was elected to the White House before he completed one term in the Senate. That's the same national experience that Rubio, Cruz, and Senator Rand Paul of Kentucky.
"I hope some day Rubio will have the experience getting results so that I would be able to support him for president, or vice president," Gaetz said. "This is a time in our country's history when we don't need someone who has 100 ideas, but can determine, as Governor Bush said, those few things the government needs to do. And then get them done right."
That's a fairly typical view in Bushworld. Even as they hail Rubio's charisma and political talents, some Florida Republicans worry that the 44-year-old senator and former speaker of the Florida House—whose campaign declined to comment for this story—is unready for the task of taking on Democratic front-runner Hillary Clinton and leading the country.
"Marco Rubio is serious, but I think he's too young," said Randy Espinet, a Miami businessman. "I know him, he's a great guy, extremely appealing...but I think he's a little too young. I don't think that would work. And he's a serious candidate for vice president if Jeb doesn't make it.
"Jeb has the very best possibility of winning the nomination and also the best possibility of winning against Hillary, which will be an uphill fight," Espinet added. "There are more Democrats than Republicans, if you go state by state or by the popular vote. They have an advantage."
Attacking Congress
In his speech, Bush emphasized his record as governor and appeared to take a swipe at the three first-term senators in the race for the Republican nomination: Rubio, Paul, and Cruz.
"As our whole nation has learned since 2008, executive experience is another term for preparation, and there is no substitute for that," he said. Doubling down, Bush portrayed himself as an outside-the-Beltway candidate. "We are not going to clean up the mess in Washington by electing the people who either helped create it or have proven incapable of fixing it."
Where Rubio has studiously tailored his appeal to the conservative base, Bush has stood by positions that are more ideologically unorthodox, such as backing a comprehensive immigration overhaul and education standards known as Common Core. While doing so carries dangers for Bush, his strategy is to be seen as a steady hand who, as he reportedly said recently, won't "bend with the wind" like his rivals.
Orlando J. Abella, a real estate broker in the Miami area whose parents emigrated from Cuba around the same time as Rubio's, hails the senator as a "great guy, dynamic, a man of God." But he finds himself leaning toward Bush.
Can Rubio win?
"Is [Rubio] ready for the presidency? I don't know," said Abella, a self-described conservative Republican who attends the same church as Bush. "I don't know if he can be elected."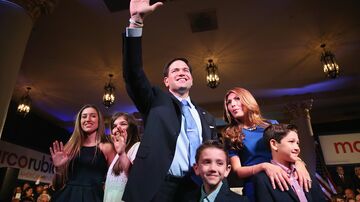 Not surprisingly, Rubio's inner circle sees the same dynamic in reverse. Republicans can't win the White House without a fresh candidate to excite the base, they privately argue, and a Bush would have a hard time defeating a Clinton. In his own campaign launch nearby at Miami's Freedom Tower, Rubio cautioned against "going back to the leaders and ideas of the past" and spoke about a hopeful future. Addressing his Republican skeptics, he added, "I have heard some suggest that I should step aside and wait my turn. But I cannot."
Bush, who lives three miles from Rubio in Miami and once gave him a ceremonial sword to signify his rise to state House speaker, on Monday went out of his way to insist he's not claiming a legacy.
"It's nobody's turn," Bush said. "It's everybody's test, and it's wide open – exactly as a contest for president should be."
Matthew O'Brien, a Miami engineer who also attends Bush's church in the Coral Gables neighborhood, pointed to the former governor's executive experience in contrast to Rubio's career as a legislator.
"Marco Rubio is a very charismatic figure," he said. "He's a dynamic speaker. My question would be: does he have the right experience to move in to an executive role?"
Keith Fernandez, a spokesman and legal counsel for Ros-Lehtinen, stressed Bush's "track record" and "positive agenda" as the reason for his support, in contrast to Rubio, whom he nevertheless described as "a great senator."
Bush offered a seen-it-and-done-it message. "I also used my veto power to protect our taxpayers from needless spending," he said, while touting his record. "And if I am elected president, I'll show Congress how that's done."
For now, the two candidates are playing nice. It was less than five years ago, after Rubio's upset victory in the 2010 Senate race, that Bush said, "Marco Rubio makes me cry for joy." But their friendship will undoubtedly be tested as the campaign heats up.
Carter summed up the message of Bush world vis-à-vis Florida's two favorite sons.
"I think this is the time for Jeb," she said. "Marco's got plenty of time down the road."
—Michael C. Bender contributed to this story. 
(Correction: An earlier version of this story misidentified the state that Senator Ted Cruz represents)
Before it's here, it's on the Bloomberg Terminal.
LEARN MORE