Benghazi Panel Democrats Call for Release of Blumenthal Transcript
The Hillary Clinton confidant gave an hours-long deposition to the committee on Tuesday.
by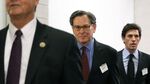 All five Democrats on the House Select Committee on Benghazi say they want Republicans who control the panel to release publicly the full transcript of the committee's hours-long deposition Tuesday with Sidney Blumenthal.
In a letter to committee Chairman Trey Gowdy of South Carolina released Wednesday, the Democrats say, "Rather than selectively leaking only certain information about Mr. Blumenthal, the American people deserve the benefit of Mr. Blumenthal's responses to the hundreds of questions that you and other Select Committee Members asked him, including questions about these same emails."
The reference to e-mails is to nearly 60 messages produced for the committee by Blumenthal, a confidant of former Secretary of State Hillary Clinton, regarding Libya and Benghazi.
Before it's here, it's on the Bloomberg Terminal.
LEARN MORE