Three House Republicans Said to Be Punished Over Trade Vote
Billy House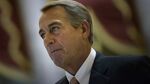 Three U.S. House Republicans were kicked off the leadership team responsible for counting votes after siding against party leaders last week on a measure setting rules for floor consideration of a trade package.
Representatives Cynthia Lummis of Wyoming, Steve Pearce of New Mexico and Trent Franks of Arizona were removed from the vote-counting team by Republican Whip Steve Scalise of Louisiana, a Republican aide close to the team said Tuesday.
The three were among 34 House Republicans who opposed a rule on June 11 to advance President Barack Obama's trade package, which Speaker John Boehner and other House leaders supported. While the rule was narrowly approved, 217-212, the trade legislation stalled the next day for lack of votes from Republicans and Democrats.
Boehner described his dismay over the lack of support from party members at a news conference Tuesday. He told reporters that during a closed-door meeting with House Republicans earlier, "I made it clear to members today I am not happy about it." He didn't mention the three lawmakers by name or say whether they were dropped from the whip team.
"'We're a team and we've worked hard to get in the majority, we've worked hard to stay in the majority, and I expect our team to act like a team," Boehner said.
Franks said in an interview that he wasn't upset about the move.
'No Ill Words'
"If I had been in leadership's position I might have done the same," Franks said. He said he was concerned that the administration might add items to an agreement with another country that might have little to do with free trade. "I have no ill words toward leadership at all," he said.
Lummis's office responded with a statement, saying, "Cynthia knew going into the rule vote last week that being a member of the whip team has certain parameters."
"She understands his decision and departs the whip organization with nothing but the utmost respect for Mr. Scalise and his entire organization," the statement added.
Pearce's office didn't respond to requests for comment.
This isn't the first time Boehner's team has punished members for opposing their leaders. In January, Boehner kicked Representatives Daniel Webster and Rich Nugent, both of Florida, off the influential Rules Committee after they were among 24 Republicans who voted against him for speaker.
'Family Conversation'
Boehner said at the time that Republicans were "going to have a family conversation, which we had this morning, about bringing our team together."
Last year, when now Majority Leader Kevin McCarthy was the whip, then-Representative Bill Cassidy of Louisiana was booted from the vote-tracking team after he sided with Democrats on a procedural vote on a bill to curb some flood insurance increases. Cassidy was elected to the Senate later that year.
In 2012, Republican Representatives Justin Amash of Michigan, Tim Huelskamp of Kansas, David Schweikert of Arizona and Walter B. Jones of North Carolina were pulled off panels by the Republican Steering Committee in part because of their votes against the party and because they publicly criticized colleagues for their votes.
Before it's here, it's on the Bloomberg Terminal.
LEARN MORE