Jerry Brown Reaches Budget Compromise With California Lawmakers
Alison Vekshin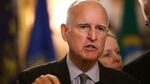 (Bloomberg) -- California Governor Jerry Brown and Democrats who control the legislature agreed on a budget that spends less than lawmakers wanted.
The agreement calls for a record $115.4 billion in general-fund spending, up 3 percent from this year. Brown, a 77-year-old Democrat, also ordered two special legislative sessions so lawmakers can consider ways to increase funding for transportation and the state's health-insurance program.
"This is a sound, well thought-out budget," Brown said Tuesday at a press conference in Sacramento. "Yet, the work never ends and in the coming months we'll have to manage our resources with the utmost prudence and find more adequate funding for our roads and health-care programs."
The compromise comes one day after the legislature passed a $117.5 billion plan that included $749 million more in social-program spending than what Brown called for in May. Brown had said that budget relied on overly optimistic revenue estimates.
Standard & Poor's in May indicated it could raise the state's credit rating, once the lowest in the nation, if the final spending plan mirrors brown's approach when he proposed spending $115.3 billion.
California has benefited from a surge in capital-gains tax revenue and from temporary tax increases voters approved in 2012 that have plowed $6.7 billion more into the state's coffers than Brown estimated in January.
Rainy Day
The budget spends $167.6 billion when special tax money and bond funds are included.
It puts $1.9 billion into California's new rainy-day fund approved by voters in November that requires the state to save a portion of excess capital-gains revenue. The latest deposit will bring the total in the fund to $3.5 billion. That's in addition to a separate $1.1 billion operating reserve account.
The budget pays off the outstanding balance of $15 billion in deficit bonds sold under former Governor Arnold Schwarzenegger and pays down loans previous governors used to cover deficits.
The agreement calls for funding an additional 13,800 preschool and child-care slots and spends $380 million for an earned-income tax credit, a tax break for low-income families.
"We didn't get everything we wanted accomplished in this budget, so we'll redouble our efforts in future budget deliberations," said Assembly Speaker Toni Atkins, a Democrat.
Special Sessions
In one special session, lawmakers will consider ways to overhaul how California pays for its health-care program for the poor, known as Medi-Cal.
California's $1.1 billion tax on health insurers is set to expire in June 2016 because it doesn't comply with federal standards that such a tax be broad-based and not limited narrowly to Medi-Cal plans.
California, like other U.S. states, is struggling with how to pay for transportation infrastructure amid a drop in gasoline taxes that are most commonly used to pay for maintenance and repairs. The state's current fuel excise tax is sufficient to fund only $2.3 billion of work, leaving $5.7 billion in unfunded repairs each year, Brown said.
Atkins has proposed a new driver fee to raise $10 billion over five years to help pay for road repairs.
To contact the reporter on this story: Alison Vekshin in Sacramento at avekshin@bloomberg.net
To contact the editors responsible for this story: Stephen Merelman at smerelman@bloomberg.net Michael B. Marois, Justin Blum
Before it's here, it's on the Bloomberg Terminal.
LEARN MORE