Hillary Clinton Associate Sidney Blumenthal Says He Didn't Write Benghazi Memos
Democrats say the Republicans are expanding their investigation in order to focus on a presidential candidate.
by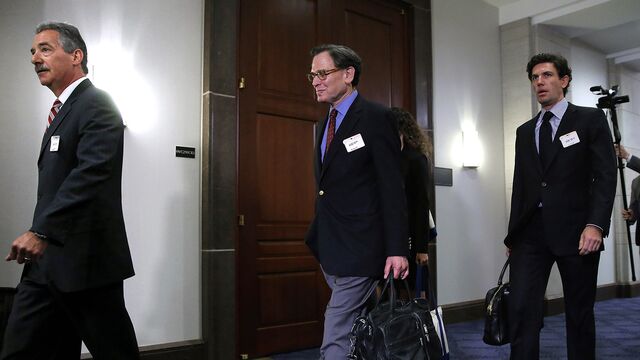 Hillary Clinton confidant Sidney Blumenthal wrote none of the intelligence memos he sent to the former secretary of state, Blumenthal testified Tuesday during a deposition before the House's Select Committee on Benghazi.
Over nearly nine hours, Blumenthal answered every question put to him, describing how he e-mailed to Clinton memos from "a respected former high-ranking CIA official" on the situation in Libya, he said during a brief statement after the closed-door deposition. Those memos apparently included the earliest evidence that the Benghazi attack of September 11, 2012, which killed the U.S. ambassador and three other Americans, was an act of terrorism.
In remarks to reporters, the chair of the committee, South Carolina Representative Trey Gowdy, wondered why Clinton relied on information.
Blumenthal "has no idea about the reliability or the credibility of any of that information," Gowdy said, adding that he believed Blumenthal's source had a "pecuniary interest" in Libya.
Both Gowdy and Blumenthal refused to identify the source, but e-mails between Clinton and Blumenthal that the State Department have released show Blumenthal, a former aide to President Bill Clinton, forwarded messages from Tyler Drumheller, a former CIA officer.
Gowdy said, despite questions about the source's motivations, he believed Hillary Clinton relied on the memos because she had forwarded them to staff members.
"There were several instances where she said, 'keep it coming,' 'good stuff,'" Gowdy said.
Gowdy said he had a right to depose Blumenthal because the House resolution that established the committee empowered it to investigate "all policies, decisions, and activities that contributed to the attacks," but said he didn't believe Blumenthal had "ever been to Libya."
Undisclosed E-mails
Earlier in the day, Gowdy said the existence of approximately 60 memos that Blumenthal gave to the committee suggested a failure of disclosure because they had not previously been handed over by the State Department.
"I think it's noteworthy that no committee in Congress that has previously looked into Benghazi or Libya had uncovered these memos, and I will leave it to you to figure out whether there was a failure to produce on the former secretary's part or a failure to produce on the Department of State's behalf," Gowdy said. "Clearly the committee should have gotten this information sooner."
The documents "include information about weapons that were circulating in Libya and about the security situation in Benghazi in the year and a half before the attacks," the New York Times reported Monday. State Department spokesman Alec Gerlach said it wasn't clear whether the agency had those e-mails, according to the Times.
"The Department is working diligently to publish to its public website all of the emails received from former Secretary Clinton through the FOIA process," Gerlach said in an e-mail on Tuesday. "We provided the Committee with a subset of documents that matched its request and will continue to work with them going forward. Secretary Kerry has been clear that the State Department will be both transparent and thorough in its obligations to the public on this matter."
A spokesperson for Clinton did not respond to a request for comment on Tuesday.
Accusations of Political Motivations
In his remarks Tuesday evening, Blumenthal characterized his appearance as political. Some of the committee's Democratic members agreed, saying Gowdy and his fellow Republicans were expanding their investigation, now looking at security in Libya generally in addition to the attacks specifically, in order to focus on a presidential candidate.
"The Select Committee is now all about Secretary Clinton," said Representative Adam Schiff of California. "If this witness weren't close to the Clintons, there is no way he'd be here today."
Schiff said that the State Department "may have" failed to disclose the new e-mails, which he has not read, because the scope of the original document requests wouldn't have included them.
Before becoming a presidential candidate, Clinton gave the department about 30,000 e-mails from her private account that she said were work-related, some of which the department has since given to the panel. Clinton said she deleted about the same number of messages that she had deemed personal. She has said she wants her governmental e-mails made public.
—Billy House in Washington contributed to this report.
CORRECTION: An earlier version of this story contained a misspelling of Blumenthal's first name. 
Before it's here, it's on the Bloomberg Terminal.
LEARN MORE