Ex-Mayor Bloomberg Donates $100 Million for Cornell Tech Campus
Henry Goldman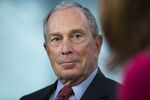 Michael Bloomberg, who as New York mayor in 2011 struck a deal with Cornell University to create a technical school on Roosevelt Island, is donating $100 million to the project.
Bloomberg's gift will help endow the first phase of construction at what will eventually be a $2 billion campus, including the Bloomberg Center, an academic building designed to be self-sufficient in energy use. It will be named after the former mayor's daughters, Emma and Georgina, said Marc LaVorgna, his spokesman.
Cornell Tech is a venture of the Ithaca, New York-based university and Technion-Israel Institute of Technology in Haifa. One of the signature achievements of Bloomberg's third four-year term as mayor, the project grew out of a competition among 17 universities to create a world-class applied-sciences school on city-owned land.
The campus master plan, designed by Skidmore, Owings & Merrill with James Corner Field Operations, will span 12 acres and house about 2,000 students and hundreds of faculty and staff. The first phase will open in 2017.
The Bloomberg administration's decision to create the school grew out of an awareness that the largest U.S. city needed to diversify its economy beyond its reliance on Wall Street, said Cornell President David Skorton, who is leaving that job in two weeks to become head of the Smithsonian Institution in Washington.
Future Economy
"While New York had already demonstrated itself to be a leader in finance, media, entertainment, tourism and biomedical science, the one area in which it lacked pre-eminent status was in the field of applied sciences and engineering," Skorton said in an interview. "The significance of the mayor's vision and donation is that he has helped bring to life a campus that will produce entrepreneurs to create the jobs and businesses that will fuel the city's future economy."
The campus will extend river to river on the island between Manhattan and Queens, with expansive views, a series of green public spaces and a seamless integration of indoor and outdoor areas. Its buildings will be energy self-sufficient, LaVorgna said.
Classes began in January 2013 at a temporary Manhattan campus in space donated by Google Inc., and there are about 100 alumni pursuing start-up ventures and jobs with companies in the city, LaVorgna said. The school employs about 15 faculty members and has 24 graduate students enrolled.
Groundbreaking Set
Bloomberg's donation was announced in advance of a Tuesday groundbreaking ceremony where he will join his successor, Mayor Bill de Blasio, and Skorton.
The former mayor, 73, is the billionaire founder and majority owner of Bloomberg News parent Bloomberg LP. Through his family and corporate philanthropies, he gives away hundreds of millions of dollars a year to support measures promoting public health, art and culture, urban quality of life and education, LaVorgna said.
In 2013, Johns Hopkins University in Baltimore, his alma mater, reported that he'd given the school more than $1 billion over several decades.
Before it's here, it's on the Bloomberg Terminal.
LEARN MORE