Democratic National Committee Trolls Donald Trump
They must have had this ready for years.
by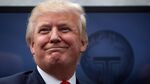 Even before Donald Trump's announcement speech was over, the Democratic National Committee hit the button on a snarky press release for the ages.
The DNC often puts out sassy replies to Republican candidate announcements, but this one, attributed to press secretary Holly Schulman, "trumps" them all:

Before it's here, it's on the Bloomberg Terminal.
LEARN MORE