Mitt Romney: Hillary Clinton's Eyes Saying 'Where's My Latte?'
The former Republican nominee says Clinton should expect the same treatment over her wealth that he faced during his campaign.
by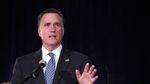 Employing a criticism more often heard on America's Next Top Model, Mitt Romney said Monday that Democratic front-runner Hillary Clinton wasn't smiling with her eyes at her campaign launch over the weekend.
"When you see her on a stage or when she comes into a room full of people, she's smiling with her mouth, but her eyes are saying, you know,  'Where's my latte?'," the 2012 presidential candidate said on MSNBC's Morning Joe. 
Romney also said he expects Clinton to face the same kind of criticism that he faced over his personal wealth, particularly because she has stressed income inequality. Romney said critics will likely point out that Clinton would earn several times more money in one hour of speaking than most Americans make in a year. 
"I think making populism a centerpiece of her campaign makes her particularly vulnerable to this kind of a response," Romney said.   
Before it's here, it's on the Bloomberg Terminal.
LEARN MORE