Jeb Bush Announces He Is Running for President
After six months of raising money and talking to voters, the Republican takes aim at the family business.
by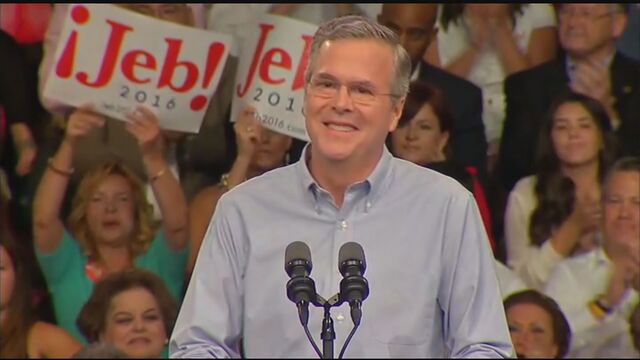 In an attempt to follow his brother and father into the nation's highest office, former Florida governor Jeb Bush announced Monday that he's running for president of the United States.
"I've decided I'm a candidate for president of the United States of America," Bush told a large cheering crowd at Miami Dade College. 
The announcement ends a months-long flirtation that began in December, when Bush governor jolted the rest of the potential field by signaling he was serious about running. Bush then unleashed a furious fundraising effort aimed at collecting $100 million in the first three months of the year, leaving little doubt about his intentions.
"We will take command of our future once again in this country," Bush, 62, said. "I know we can fix this. Because I've done it."
A fluent Spanish speaker who hopes to make inroads with Hispanic voters, Bush declared "in any language, my message will be an optimistic one because I am certain that we can make the decades just ahead in America the greatest time ever to be alive in this world." 
Bush has made closing the opportunity gap the thrust of his burgeoning campaign, saying that easing immigration laws, loosening regulation, and simplifying the tax code would be part of his formula to nearly double the nation's economic growth to 4 percent per year. He's offered few specifics, so far, on the regulation and tax changes, and that didn't change during Monday's speech. 
 "Federal regulation has gone far past the consent of the governed," Bush said. "It is time to start making rules for the rule-makers."
He enters the race with many of the usual characteristics of a Republican front-runner. He has the best-known last name, served two terms as governor of the nation's largest battleground state, and, thanks to his own ties in Florida and the network established by his family, is widely expected to raise the most money of any Republican candidate.
Yet Bush has been unable to separate himself from the other Republican contenders as he's spent the past six months touring the country, raising money, and meeting voters, partly due to concerns that three of the past five presidents could come from the same family. Earlier this month, he hired Danny Diaz as campaign manager, shaking up the staff of a campaign that has not met expectations.
He is also facing doubts from Republican primary voters over his support for easing immigration laws and his early support for the K-12 education standards known as Common Core.
Bush, whose wife, Columba, was born in Mexico, has said he has lived the immigrant experience largely through his family. "Trust me," Bush said in April at the Universidad Metropolitan in Puerto Rico, "I know the power of the immigrant experience because I live it each and every day. I know the immigrant experience because I married a beautiful girl from Mexico. My children are bicultural and bilingual."
Also on Bloomberg Politics: The Definitive Jeb Bush Scouting Report, by Mark Halperin and John Heilemann
He has said he would rewrite immigration laws to increase border security, limit the number of family members arriving in the country while increasing opportunities for those who are coming for economic reasons, and create a path to legal status for many of the 11 million undocumented immigrants already in the U.S.
Bush, who made education a priority while he was Florida governor from 1999 to 2007, has backed away somewhat from Common Core, the reading and math curriculum standards that were created by governors and local education officials and adopted by 44 states. Amid complaints that education was being nationalized, Bush said he no longer supports the federal government offering financial incentives to states that adopt the standards. Instead, Bush has said he would support states that want to abandon Common Core if they adopted tougher standards.
Also on Bloomberg Politics: What Kind of Economic Conservative Is Jeb Bush?
Bush's biggest hurdle, however, may be his own last name. A Bloomberg Politics poll in April showed that 42 percent of Republicans and independents nationwide said they would never consider voting for Bush.
The family dynamic has proven difficult for Bush, too. In May, it took Bush nearly a week to settle on an answer about the 2003 invasion of Iraq authorized by his brother, then-President George W. Bush. Jeb Bush, who is six years younger than his brother, eventually said that while the war was worth it, he would not have sent combat troops into the country knowing the intelligence was faulty.
"I don't go out of my way to disagree with my brother," Bush told reporters, explaining why he gave different answers to the Iraq question. "I am loyal to him. I don't think it's necessary to go through every place where I disagree with him."
Bush has said he agrees with the kind of supply-side tax cuts that his brother pushed through Congress, and has signed up many of his brother's foreign policy advisers. Bush has created space with his brother over Iraq by criticizing the amount of deficit spending that Republicans approved during that administration.
Raised in the Texas cities of Midland and Houston, Bush majored in Latin America studies at the University of Texas after meeting his future wife on a high school trip to Mexico.
He moved to Miami in 1981 and started his own company, which he says grew to become the largest full-service commercial real estate firm in South Florida. While he campaigned for his father, George H.W. Bush, during the 1980 presidential campaign, Jeb Bush's own political journey didn't start until 1984, when he became the Miami-Dade County Republican chairman. He also served a short stint as the state commerce secretary under then-Governor Bob Martinez.
Bush launched his first governor's campaign in 1994 and ultimately lost, 51 percent to 49 percent, to incumbent Lawton Chiles, who played up his Florida roots and painted Bush as unprepared for the job.
He refers to that defeat as an important moment in his life, leading to his conversion to Catholicism. Bush, who had been attending mass with his wife and raising his three children as Catholics, converted to the religion a year later, and almost immediately started campaigning again for the governor's job. In 1998, Bush easily defeated Lieutenant Governor Buddy MacKay, who had struggled to unite Democrats behind his campaign.
Bush's victory gave Republicans control of the governor's office and both chambers of the legislature. That helped him push through $19 billion in tax cuts and a series of school choice laws, include the nation's first statewide voucher system (which later was dismantled by the courts) and an accountability system that pre-dates the federal No Child Left Behind Act of 2001.
Another prominent Florida Republican has already found a place in the top tier of the nomination race. Senator Marco Rubio came up through Sunshine State politics when Bush was governor, and the two describe themselves as friends. They live within three miles of each other in Miami.
"In politics, people throw around the word 'friend' so much it often has little real meaning," Rubio said in a statement Monday welcoming Bush to the race. "This is not one of those times. When I call Jeb Bush my friend, I mean he is someone I like, care for and respect."
Bush was governor during the 2000 election controversy in Florida, which the U.S. Supreme Court ultimately decided in his brother's favor. When it became clear that there would be a battle over the state's election results, Bush recused himself from the three-member board of elections.
That didn't stop claims that he orchestrated then-Secretary of State Katherine Harris' decision to certify his brother as the winner, but those accusations largely foundered for lack of evidence.
Bush is the father of three children: John Ellis, Jr., Noelle, and George P., the Texas land commissioner.
Before it's here, it's on the Bloomberg Terminal.
LEARN MORE