Hillary Clinton Calls Trade Stalemate 'a Process Issue'
But the Democratic front-runner continues to hedge on whether President Obama should have fast-track authority—and whether she would want it if she were president.
by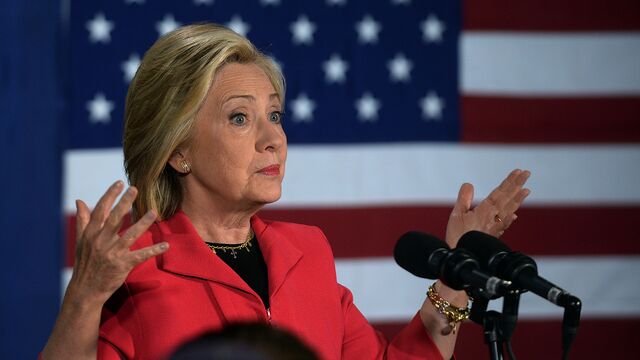 Campaigning in New Hampshire, Democratic front-runner Hillary Clinton on Monday continued to hedge on whether President Barack Obama should have fast-track authority in the Trans-Pacific Partnership Trade Agreement—and whether she would want it if she were the president. 
"I'm going to say this," she said, speaking to reporters at an orchard in Concord, N.H. "I believe that you take whatever happens to you in a negotiation and you try to leverage it. In this case, I believe that one of the ways the president could get fast-track authority is to deal with the legitimate concerns of those Democrats who are potential 'yes' voters, to see what within the negotiation or what's even in the existing framework agreement that's being drafted, could be modified or changed." 
Saying the failed House vote on Friday was "a process issue," Clinton echoed her remarks on Sunday in Iowa. "The president should listen to and work with his allies in Congress, starting with Nancy Pelosi," she said. "And if we don't get it, there should be no deal."
Monday's press conference followed weeks of complaints from reporters about Clinton's lack of availability, as well as a weekend of appearances by members of her staff, who also would not give an opinion on Clinton's behalf about the trade agreement. Senator Bernie Sanders and others have sharply criticized Clinton's refusal to take a position. "I am not clear, nor do I believe the American people are clear, as to what Secretary Clinton's position is," he said. "Is she for it or is she against it? Those are your two options."
After the failure of a strategic vote crucial to sending fast-track trade authority to the White House—a stunning defeat for Obama—Republicans are pushing for a new vote this week. 
In New Hampshire, Clinton also touched on the criticism that her own family's wealth stands at odds with her campaign's populist message. 
"I'm very grateful for the success that Bill and I have had," she said. "We both come from hardworking families and we have worked really hard, both of us, over the course of our lives and we feel blessed. We feel absolutely grateful for the opportunities that we've had. But I've been saying pretty much the same thing since I was a college student: I'm proud of my progressive credentials and experiences and accomplishments and I am waging a campaign about what I think is best for the country and it's going to be up to the American people to draw their own conclusions."
Before it's here, it's on the Bloomberg Terminal.
LEARN MORE