For Hillary Clinton and Jeb Bush, It's Time to Get Serious
Each would have liked to scare off the competition or at least put enough distance behind them to set the pace, stockpile cash, and leave the details and the fighting for later.
by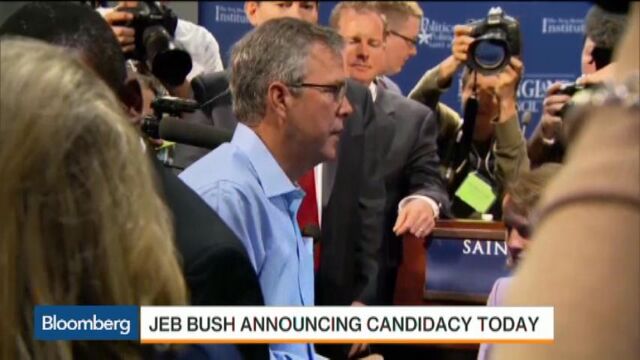 With Republican Jeb Bush's official campaign kickoff from Miami, two days after Democrat Hillary Clinton's first major stump speech from New York, the two marquee legacy names of the 2016 presidential race are in it now, for real.
One is mostly running against herself. The other is still trying to separate himself from the pack, not to mention his sometimes inconvenient political dynasty. Both are haunted by the notion of becoming some version of the 2008 Clinton, a supposedly prohibitive favorite who lost the expectations game and, ultimately, the nomination, to a political upstart.
Clinton, a former U.S. senator and secretary of state, one-time presidential candidate, and wife of a former president, and Bush, a former Florida governor and the son and brother of former presidents, both hold the claims on experience, advisers, and donors to make them the candidates to beat in their respective parties. Each would have liked to scare off the competition or at least put enough distance behind them to set the pace, stockpile cash, and leave the details and the fighting for later.  
Of the two, Bush is having by far the more difficult time trying to secure the dominant position in his party's nominating contest. Yet Clinton can't coast either. The surprising enthusiasm for Senator Bernie Sanders's challenge; controversies over Clinton's use of private e-mail for government business; and the finances of her family's foundation, as well as her awkward attempt to keep from alienating either side in Democrats' divisive free trade fight, all signal weaknesses that might might be a drag in the general election.
"They've got to figure, 'It's going to be a competitive race, how do I now distinguish myself?'" said Vin Weber, a former Minnesota congressman and outside adviser to Bush. Weber said that will necessitate "a message that resonates" and said that will provide more substance, earlier. "You're already seeing it from Clinton, you're going to see it from Bush, and I think you'll probably see it from the other candidates. That's an optimist's view, but that's my view."
Also on Bloomberg Politics: The Definitive Jeb Bush Scouting Report, by Mark Halperin and John Heilemann
Clinton never expected an easy ride, said Ann Lewis, one of her former senior advisers. Her early emphasis on talking to small groups was aimed at connecting personally, which she didn't do well enough eight years ago. "There's a cost to that," Lewis said. "The cost is that it leaves more space for some other issues, i.e. the e-mails, the questions about the foundation, to get perhaps equal billing at this point, to get more time."
Now, Lewis said, "Stage One is over. Stage Two is beginning."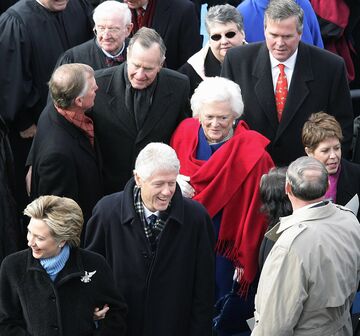 For Clinton and Bush, that means, after the big speeches, a return to early-voting states to engage with voters in Iowa, New Hampshire, and South Carolina. (Bush also is dispatching his son George, whose youth and Hispanic background may help his father broaden his constituency, to Nevada.)
It also means moving beyond earlier errors.
In a field of more than a dozen declared or likely candidates, Bush has not been able to break out ahead of younger rivals such as Wisconsin Governor Scott Walker, Florida Senator Marco Rubio, or Kentucky Senator Rand Paul. He also has faced early struggles in trying to unify his team and separate his own image from his brother's. His bungled response to a question about whether he'd have gone to war in Iraq made for a sloppy start on social media and put him in the position of representing the party establishment in a year when many Republicans seem to be yearning for something different.
Ahead of his kickoff speech, however, Bush spent five days in Europe bolstering his foreign policy credentials on a successful trip in which he fielded questions from locals as well as U.S. campaign reporters. Determined to avoid a repeat of his Iraq response, Bush was rhetorically ready when questioned about his implications in a 1995 book that more public shaming of single mothers might reduce out-of-wedlock pregnancies. Bush said both that his views over the years had evolved and that he had been talking about fathers' responsibilities.
Using the spouse strategically
Clinton used her husband strategically in the days leading up to her first campaign rally to absorb and try to dissipate heat over the family foundation controversy. Her first big stump speech came days after the Clinton Global Initiative America conference in Denver, where, in televised interviews with Bloomberg and CNN, Bill Clinton defended the propriety of foreign and corporate donations to the foundation while his wife was secretary of state and, in emotional terms, described her importance to his own personal and political success.
Hillary Clinton is sticking with a personal strategy, revealing more publicly than she has before about her mother's fraught upbringing and its impact on her even as she turns toward a more substantive discussion about the economy.
J. Ann Selzer, president of West Des Moines-based Selzer & Co., which conducts the Bloomberg Politics/Des Moines Register Iowa Poll, said the challenge for both has revolved around questions of how aggressively to define themselves.
Also on Bloomberg Politics: The Definitive Hillary Clinton Scouting Report, by Mark Halperin and John Heilemann
Selzer said a concern with Clinton may be that "she's not batting back with any ferocity the kind of stuff she's being charged with. But she hasn't begun to fight." With Bush, Selzer said, "people don't know him as his own man." In Iowa, his favorability fell in May from polling last October, while his unfavorability rose to 45 percent from 28 percent.
"He's been battered around a bit, but he's not made enough of an affirmative case," Selzer said.
Still, Selzer said, it's important to consider that both campaigns have been doing work that is difficult to poll because it is "invisible to most voters or likely caucus-goers" in crucial areas including fundraising and organization-building. "This campaign really hasn't begun," Selzer said. "Things can happen when you actually announce and start acting like a candidate."
—Michael C. Bender, Jennifer Epstein, and Phil Mattingly contributed to this report.
Before it's here, it's on the Bloomberg Terminal.
LEARN MORE