Eyeing Payday, California Lawmakers are Poised to Pass a Budget
Alison Vekshin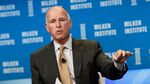 California lawmakers are poised to pass a $117.5 billion budget Monday they know Governor Jerry Brown opposes because it spends too much. That way they can get paid.
State voters in 2010 approved a constitution amendment that requires legislators to send a budget to the governor by June 15 or forfeit their pay for every day they are late. Majority Democrats crafted a spending plan based on revenue estimates that are rosier than Brown's. They said they intend to send it to Brown by the deadline and then negotiate a compromise before the fiscal year that begins July 1.
The Democrats are pressing for more spending on programs ranging from childcare to public universities as surplus money pours in from temporary tax increases and capital gains earned in Silicon Valley. Brown, a 77-year-old Democrat, has called for conservatism, saying the good times won't last.
"The sum total of the package is more than can be supported by the general fund in the short term and the long term," Brown's budget spokesman H.D. Palmer said in an e-mailed statement. "The governor is focused on ensuring ongoing balance of the state budget and avoiding the boom-and-bust cycle that has plagued the state over the past decade."
During budget negotiations in past years, Democratic lawmakers agreed to work within the confines of Brown's lower revenue projections in exchange for funding some of their priorities, said Senator Mark Leno, a Democrat from San Francisco and head of the budget committee.
Credit-rating companies are watching. Standard & Poor's said in May it could raise the state's rating if the final spending plan mirrors Brown's proposal.
Spending Defense
The lawmakers' budget includes $749 million in additional general fund spending, compared with Brown's plan. This includes $20 million for farmworker housing, $262 million for childcare and preschool and $25 million for the University of California if it increases enrollment of in-state students by 5,000 in the next two years.
They proposed adding $760 million to a new rainy-day fund on top of the $3.5 billion Brown wanted.
"We're trying to make sure that our schools are sound and solid, that our families are supported, that our young people have an opportunity to grow and develop," Assemblywoman Shirley Weber, a Democrat, said at a June 9 budget conference committee hearing. "We have to invest in California."
Brown has taken issue with the estimate Democrats are relying on for their budget plan, which is $3.1 billion more than his projection.
His budget pours most of the surplus into schools and a rainy day fund as required by law. His $115 billion spending plan, a 6 percent increase from the current year's $108 billion, also pays down debt accumulated under previous governors to paper over deficits.
Leno defended the Legislature's package, saying few of the massive cuts to universities, childcare and the judiciary spurred by the recession have been restored.
"The list is long, and to date, we've made relatively minor reinvestments because we had also through the Schwarzenegger years accumulated enormous debt," Leno said in a June 10 telephone interview, referring to former Governor Arnold Schwarzenegger.
Before it's here, it's on the Bloomberg Terminal.
LEARN MORE