In Des Moines, Bernie Sanders' Supporters Nearly Steal the Show
While Hillary Clinton holds a rally in New York City, Sanders is packing them in across the first-caucus state.
by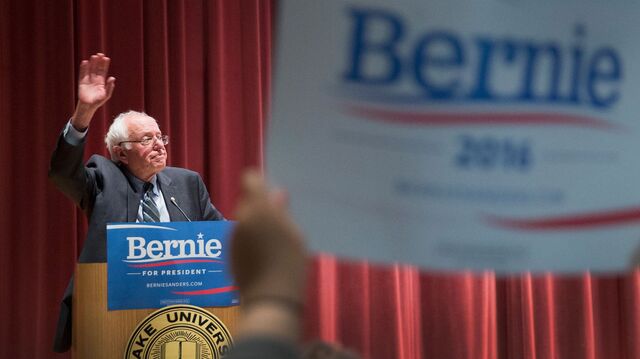 The crowd in Drake University's Sheslow Auditorium was definitely feeling the Bern.
Around 700 supporters of Senator Bernie Sanders showed up Friday night for his town hall on this Des Moines, Iowa campus, but some of the most enthusiastic applause went to Tyson Manker, a 33-year-old former Marine practicing law in Central Illinois.
"Good evening Senator Sanders, I look forward to the day that I can call you Mr. President," Manker said, to applause. "I'm a former U.S. Marine, I fought in Iraq [applause] and I'd like to say, before I ask my question, quickly, that your support for veterans is the reason why I drove six hours from Central Illinois today to support you and to join your campaign [applause]," he continued. At one point Sanders left the podium to shake his hand.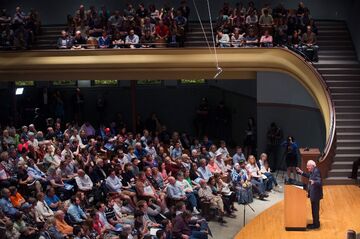 As Democratic presidential front-runner Hillary Clinton holds her first campaign rally Saturday morning in New York City, Sanders is in Iowa, continuing to draw large and energetic crowds during a three-day swing through the state where the first ballots of the 2016 presidential contest will be cast early next year. 
"Sometimes our campaign has been referred to as a fringe campaign," Sanders told the crowd. "Well, if this this fringe, I'd hate to see mainstream."
Manker wanted to know what Sanders, a member of the Senate Veterans' Affairs Committee, would do about the gap between what veterans are promised when they sign up to serve, and what they get when they come back. "If there is any moral obligation that the nation has, it is to do everything that we can for those people who put their lives on the line to defend us and have come back wounded either in body or in spirit," Sanders said, before describing his work on the 2014 veterans health care bill. "But we still have a long way to go."
The audience was boisterous throughout Sanders' hour-long speech and nearly 25 minutes of questions, in which he touched on everything from Citizens United, to climate change, student loan debt, Friday's congressional drama over President Obama's trade deal, and even GMOs (he thinks genetically modified foods should be labelled). Sanders got a standing ovation when he talked about climate change. He got another one when said that the nation needs a single-payer health care system.
During the middle of his speech Sanders brought three local college students to the stage to talk about their struggles with student loan debt. When Meredith Cook, said she had some private loans with interest rates as high as 10-12 percent, the audience collectively winced.
Afterwards in an interview, Cook said she hasn't made up her mind who she's supporting for president. "Right now I'm actually not endorsing, because there's not enough candidates in the field yet," Cook said. "But I really do like what Bernie Sanders has to say, I followed him for a couple of months now and I think he's a serious opponent."
Manker, on the other hand, is all in. He praised Sanders for his "foresight" in predicting the problems with the Iraq War and his stances on women's, workers, and gay rights.
"He stands for the type of justice that I believe in and that I fought for, to defend, in Iraq," he said during an interview. "I mean, he's just very inspirational and I wouldn't be here if I didn't think that this was something major." 
CORRECTION: An earlier version of this story misquoted Tyson Manker in the third paragraph.
Before it's here, it's on the Bloomberg Terminal.
LEARN MORE