Hillary Clinton Channels Eleanor Roosevelt On the Stump
As first lady, Hillary Clinton followed an iconoclastic role model.
by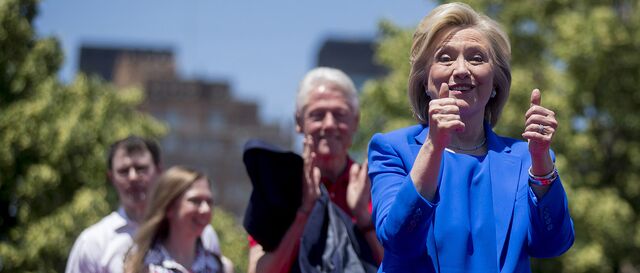 Eleanor Roosevelt was America's longest-serving first lady, and arguably its most revolutionary.  She held her own press conferences—at the first, in 1933, she allowed in only female reporters—she spoke at a national party convention, she traveled around the country to observe living and labor conditions. And when she disagreed with her husband, the president, she made it known. She was an activist, a journalist, a diplomat: instrumental in the adoption of the Universal Declaration of Human Rights.
The first lady who followed her, Bess Truman, "wasn't even in Washington most of the time," said Eleanor Roosevelt biographer Blanche Wiesen Cook, a professor of history and women's studies at the City University of New York. "She wanted no part." First Ladies Jackie Kennedy and Lady Bird Johnson took on more traditional women's roles, too. 
"No one has done what Eleanor did," Cook said. "Until Hillary."
On a sunny Saturday, Clinton took the stage at the first major outdoor rally of her 2016 presidential campaign—on New York City's Roosevelt Island, at a park named for the four precepts that President Roosevelt put forward in his 1941 State of the Union, which Norman Rockwell helped immortalize with oil: freedom of speech and worship, and freedom from want and fear. As Bloomberg's Jennifer Epstein reported, Clinton invoked the Roosevelts—Franklin Delano, of course, for whom the park is named, and his commitment to "equality of opportunity." But in noting the absence of ceilings, glass or otherwise, and in highlighting the ever-presence of her own gender and her dyed hair,  the Roosevelt most forcefully channeled by Clinton may have been Eleanor.
Clinton has cited Roosevelt as her personal hero. She launched her political career in Roosevelt's state. During her Senate campaign, in 2000, Clinton made a pilgrimage to Roosevelt's cottage home, Val-Kill, in Hyde Park, New York, and spoke before hundreds of "a woman who was larger than life but always approachable."
More insistent feminism
With the more-populist tone of Clinton's 2016 campaign, not to mention a more insistent feminism, the historical thread between her and Roosevelt seems to be getting stronger. Here are the two first ladies who refused to be pigeonholed into women's roles, who adamantly, if controversially, refused to limit their activities as first ladies to the domestic arts. Both have been lauded and panned, celebrated and criticized. Because of their husbands' infidelities, both endured great personal humiliations, and both reclaimed their dignity by pressing ahead with their own public careers. In the process, they helped to rewrite the narratives of their ultra-public marriages. Clinton embraced her husband's economic record in her announcement speech and then, after it was over, embraced him.
Roosevelt herself declined to run for political office. "Eleanor was asked to run for Senate, and asked to run for vice president, and indeed asked to run for president.  Each time she said, 'I would rather be chloroformed than run for office,'" Cook said. Harold L. Ickes, one of FDR's chief aides, had pleaded with Eleanor Roosevelt to run for Senate. She was adamant. But years later, in the battle for a Senate seat against Representative Rick Lazio, one of Clinton's top political advisers was Ickes's son Harold M. Ickes.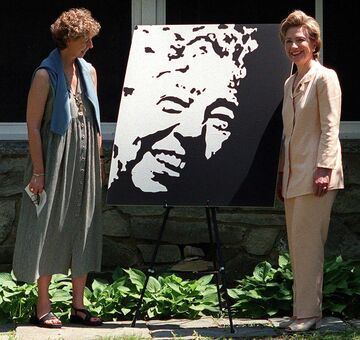 Jeff Shesol, a speechwriter for former President Bill Clinton,told CNN that the comparison between the Clintons and the Roosevelts is instructive. He referred to the "power of Eleanor Roosevelt as an individual different than her husband."
Ted Widmer, another former speechwriter for Bill Clinton, said the White House turned to the Roosevelts for a kind of guidance during Clinton's scandal-heavy second term. "We talked about history all the time," he said. "We felt like Franklin and Eleanor Roosevelt were friendly spirits."
That's a memorable choice of words, considering that, on a spring day in 1995, according to an account published by Bob Woodward, the Washington investigative journalist of Watergate fame, Clinton 'communed' with Eleanor Roosevelt in the White House solarium. Jean Houston, an author with something of the New Age about her, was visiting the First Lady at the White House, and proposed, Woodward writes, that Clinton "search further and dig deeper for her connections to Mrs. Roosevelt." Clinton closed her eyes, and spoke to Roosevelt—and then she spoke as if she were Roosevelt herself. Houston later told the New York Times that this was more "brainstorming" session than séance, but all the same, a conjuring: "an imaginative exercise to force her ideas, to think about how Eleanor would have responded to a particular problem." At the dedication for the Four Freedoms Park, in 2012, President Bill Clinton joked about this incident. He said, "As all of you famously learned when I served as president, my wife, now the secretary of state, was known to commune with Eleanor on a regular basis. So she called me last night on her way home from Peru to remind me to say that: That Eleanor had talked to her and reminded her that I should say that."
The writer Cook, who has recently completed the third and final volume of her award-winning biographical series on Eleanor Roosevelt, believes that the late first lady would be "delighted that Hillary Clinton is in this position, after so much hard work."
'Why be cautious?'
But she imagined that Roosevelt might lobby Clinton on issues like a higher minimum wage—up to $15, why be cautious?  And "Given that there are so many wars going on," Cook said, as if speaking for Roosevelt—she cited 38 wars—"we don't want Hillary to be a hawk." If Roosevelt were alive, Cook said, "she would be writing articles and lobbying her to be the best she could be." Cook said of Hillary Clinton, "I think she's a closeted progressive, and that's why she's attracted to Eleanor Roosevelt— but she's a politician. We can only hope that she comes out of the closet."
Eleanor Roosevelt was extremely controversial, particularly in the areas of civil liberties, human and housing rights. J. Edgar Hoover himself, the director of the FBI, asked his agents to keep careful watch on her, compiling a massive file. Her behavior and the fact of her independence had many critics, who were put off and appalled: she was called ugly, old, and incessantly prodding. At her announcement, Clinton alluded to her own setbacks. "Lord knows I've made my share of mistakes," she said. "Well, there's no shortage of people pointing them out."
Roosevelt pushed ahead. And so, too, has Clinton. "I've been called many things by many people," she told her audience on Roosevelt Island. "Quitter is not one of them."
Before it's here, it's on the Bloomberg Terminal.
LEARN MORE