Who's Laughing Now? Marco Rubio Mocks New York Times Article on His Finances
At Utah donor conference, the presidential hopeful warns that his party needs an alternative if Supreme Court strikes down Obamacare subsidies.
by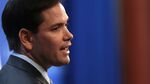 Florida Senator Marco Rubio joked with Republican bigwigs Friday about a recent New York Times article about his past financial struggles, which mentioned that he once spent $80,000 dollars on a "luxury speedboat."
Rubio has disputed that description and he turned it into a joke into before a Utah gathering hosted by Mitt Romney. "My wife and I have been blessed," Rubio deadpanned. "We've even been able to buy a luxury speedboat, cleverly disguised as a family fishing boat." The wisecrack won applause and laughter from the crowd.
"The latest attack by the New York Times and others," Rubio contended, "is that I'm not rich enough to be president." 
That story—along with another article the Times ran several days earlier about traffic tickets accrued by Rubio and his wife—has been a boon to the senator's presidential bid, people close to him say. His campaign has been fundraising off the news pieces, and he even gained some sympathy from comedian Jon Stewart.
In Utah, the Floridian took a swipe at Democratic presidential front-runner Hillary Clinton over her own finances: "I do not have a family foundation that has raised $2 billion, some of it from foreign entities."
In a half-hour speech speech followed by a question-and-answer session, Rubio spoke of everything from the economy and domestic politics to foreign policy. He called Vladimir Putin "evil." And in a signature line, the 44-year-old lawmaker lamented that the United States remains "plagued by leaders who are trapped in the past."
The son of Cuban immigrants also reiterated his position to reform immigration sequentially, starting with tougher enforcement and bringing illegal immigration "under control." More broadly, he said his party cannot be seen as antagonistic toward Hispanics when asked about immigration and the Latino vote.
"When you think someone doesn't care about people like you it's hard to listen to anything else they're saying," he said. "So we have to confront that."
Rubio said Republicans should have a plan for the millions of Americans—including in his home state of Florida—who might lose health insurance subsidies if the Supreme Court invalidates that portion of President Barack Obama's signature health care law later this month. "I'm not sure we've arrived at a consensus yet," he said, stopping short of endorsing specific proposals for those affected. Republican leaders insist they're prepared to act.
A Senate colleague and presidential rival, Lindsey Graham of South Carolina, talking to reporters at the Utah event, made a similar point. "We have an obligation as a party to not just complain but to work with the president if he'll work with us," Graham said. "What do you do with people with subsidies? 
"I want to make sure there's a meaningful transition here so they're not left out in the cold," he added.
 (Kendall Breitman contributed reporting)
Before it's here, it's on the Bloomberg Terminal.
LEARN MORE