The Recurring Themes of Jeb Bush's Campaign Announcements
Bush's presidential announcement on Monday will be the fourth campaign he's launched from Florida.
by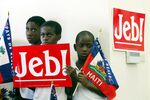 The announcement of a political campaign—whether for a local school board seat, state House office, or president of the United States—usually includes little surprise and even less news. Instead, these ceremonial events offer a glimpse into how the candidate wants to be perceived, what the marketing strategy will entail, and an idea of his or her most important message to voters.
Jeb Bush's expected presidential announcement on Monday will be the fourth time he's launched a campaign from Florida. He's scheduled to speak in Miami, where his children were raised after the family moved there during his father's 1980 presidential bid, and where he ran a real estate company before running for office.
Bush is virtually certain to highlight the fact that he's speaking from the Miami-Dade College campus in Kendall, in the county's largely Cuban-American suburbs and in the heart of the Democratic stronghold in South Florida, where Obama ran up huge margins in 2008 and 2012 to win the state. Bush's main play for the Republican presidential nomination is that he's the best positioned to win a general election race, and he'll have to compete in areas such as South Florida to make that happen.
Before Bush opens his latest campaign, here's a look at how he's done it before.
October 4, 1993
A 40-year-old Bush was flanked by his wife, Columba, and then-16-year-old daughter, Noelle, at a news conference in Tallahassee, where announced his ultimately successful bid to unseat Democratic Governor Lawton Chiles.

Bush cast himself as the outsider in the race, using his announcement day to denounce "tired, old ideas" stifling growth in the state.  In 2015, the roles have been reversed: Bush's younger rivals for the Republican presidential nomination are portraying themselves as the fresh faces for the party.  
"Florida must choose between its past and future," Bush said at the time. "I am not contaminated by the mindset and political compromises that have created the deplorable situation in which we now find ourselves."
Another theme emerged in that first campaign that remains two decades later: Bush's limited patience for questions about his family's political legacy. In Tallahassee that day, less than a year after his father's unsuccessful presidential reelection bid, Bush was asked whether former President George H.W. Bush would join him on the trail.
"He won't be campaigning for the other candidates," Bush said.
Bush's presidential announcement next week will be followed by a tour of New Hampshire, Iowa, and South Carolina. After his 1993 announcement, Bush took a multi-day day tour through Jacksonville, Orlando and Miami, where local news reports noted his political lineage and the fact that his name, Jeb, was a nickname that came from the first letters of his full name: John Ellis Bush.
"Though he neither looks nor sounds much like his famous father, he has picked up lots of George Bush's wealthy Florida supporters," Tampa Bay Times reporter Bill Moss wrote, noting that "Jeb's big brother, George W. Bush, is running for governor of Texas."
November 12, 1997
Bush returned to Tallahassee to announce his second attempt at Florida's top office, this time joined by Florida's then-Secretary of State Sandra Mortham, whom he introduced as his running mate. She was the first woman elected speaker of the Florida House, and the first woman to seek the lieutenant governorship in Florida.
She was also the first woman removed from a ticket when, in January 1998, she stepped down amid spending controversies.
After announcing, Bush took off on a three-day, 12-city campaign-kickoff tour where he aimed to show that he was reaching out to women and minority voters who rejected him in the first campaign. He visited a mostly black elementary school in West Palm Beach, made an appearance with the head of the Urban League Center of Greater Miami, stopped at an inner-city elementary school in Orlando, and, in Tallahassee, was introduced by Reverend R.B. Holmes, pastor of an influential black church. 
With campaign-style stops in Puerto Rico this year and a speech to the National Hispanic Evangelical Conference in House, Bush is again portraying himself as someone who can broaden the party's appeal and end a long losing streak. In Florida, Bush was the second Republican elected governor in 28 years. Nationally, Republicans have lost four of the last six presidential elections.
"I've reached out over the past six months to people who four years ago wouldn't even see me," Bush said in 1997 after touring a center for Alzheimer patients outside Fort Lauderdale. "Now at least they'll see me."
June 8, 2001
Amid rumors that Bush's wife was less than enthusiastic about a second term in Tallahassee, the then-governor had been taking questions for weeks about whether he would run again. A month earlier, Bush took the unusual step of publicly denying rumors of an extramarital affair, saying he believed the rumors were "political in nature" and that he'd always been faithful in his marriage, then in its 28th year.
Standing in front of the Coral Park Elementary in Miami, flanked by then-state Education Commissioner Charlie Crist and U.S. Representative Lincoln Diaz-Balart, then a freshman member of the state House, Bush said he planned to run for re-election and dismissed the idea that his wife may have wanted him to forgo a second term.
 "That's all rumors, and that's all gossip, and that's all talk and that's all blah, blah, blah," Bush said. "If the truth be known, my wife has done more public events than any of the first ladies preceding her. She is actively involved in arts education, and she travels the state to raise money for great public schools like this one that have great arts programs that inspire kids to learn through using their creative talents. She is the leader in the fight against drugs in this state, and has gone to almost every drug-treatment program and drug-prevention program all across the state.
"Because she doesn't do it with a big bullhorn, or a big 'oh-I'm-a-big-shot' kind of thing—because she's a humble person—some people think she hasn't done it. But the facts are there," Bush continued. "And I'm kind of tired of all the idle chatter that goes on in public life. People ought to stay focused on the things that are true."
Then-Vice President Dick Cheney joined Bush the next day for a fundraiser for the state party, which helped finance the re-election. But Bush's campaign paperwork wasn't filed for another month.
Bush's paperwork was filed while he was vacationing in Kennebunkport, Maine, on July 6, by Berthy De La Rosa-Aponte, a woman from Broward County who, in 1998, stood up in a meeting and challenged Bush to do more to help people with disabilities. De La Rosa-Aponte's daughter, Lucy, who is cognitively and physically disabled, clutched her hand during the news conference outside the state Capitol, in which she praised Bush for boosting spending for people with developmental disabilities, according to a report from the Miami Herald's Lesley Clark.
"Please understand, this is not about politics," said De La Rosa-Aponte. "It's about a friendship, and it's about making sure that all people's voices are heard and respected."
Before it's here, it's on the Bloomberg Terminal.
LEARN MORE