House Democrats Hand Obama Embarrassing Defeat on Trade Deal
Carter Dougherty and Erik Wasson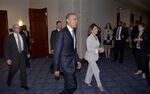 Democrats handed President Barack Obama an embarrassing defeat on his trade agenda, blocking final passage of fast-track negotiating authority just hours after he made a rare visit to Capitol Hill to seek their support.
In a 126-302 vote Friday, Democrats helped reject a displaced workers' aid program they usually support that was needed to proceed to a final vote on fast-track authority. The House then quickly voted for the fast-track measure, 219-211, though it won't go to Obama's desk unless the worker aid bill also passes.
The House plans to vote again on the aid measure Tuesday. Passage would send the trade package to Obama.
"The president has some work yet to do with his party; this isn't over yet," Ways and Means Committee Chairman Paul Ryan, a Wisconsin Republican, said at a news conference after the vote.
Obama's administration -- and the president personally -- lobbied for months for expedited trade negotiating authority, saying it is needed to advance trade agreements that will keep the U.S. competitive with overseas rivals. Obama is seeking to complete a 12-nation Trans-Pacific Partnership.
Only 40 Democrats voted for the aid bill minutes after Minority Leader Nancy Pelosi announced her opposition in a dramatic speech, while 144 voted no.
'Slow Down'
"Our people would rather have a job than trade assistance," said Pelosi, a California Democrat. "We have to slow down" on the fast-track bill, she said. "Whatever the deal is with other countries, we want a better deal for America's workers."
House Rules Committee Chairman Pete Sessions of Texas said the vote on the fast-track measure shows it will pass one way or another, and that Democrats should realize they need to save the worker aid program they have supported in the past.
The Democrats "took a hostage they now realize they can't afford to shoot," said House Republicans' chief vote counter, Steve Scalise of Louisiana.
After the vote, New York Democrat Steve Israel, a trade bill supporter, said his party has an obligation to pass the worker aid plan.
"It's unfathomable to me that we end up in a place where a trade bill passed" without it, Israel said. "This has not been among our finest two hours."
Levin's Stance
Trade bill opponent Sander Levin of Michigan, the top Democrat on the House Ways and Means Committee, said plans for Tuesday's vote gives Democrats an opportunity for a "substantive" conversation on how to shape the proposed Trans-Pacific Partnership. If talks were successful, he said he could change his vote on worker aid.
Obama went to Capitol Hill Friday morning for a private meeting with House Democrats to push for passage of the trade measures. Afterward, several members said they still weren't convinced.
"If anyone could have changed our minds," it would have been the president, said California Democrat Brad Sherman, who opposes the measures. The president spoke eloquently, but "a majority of our caucus does not agree with him on this issue," Sherman said. "We just disagree."
In a sign of the push, earlier Friday press secretary Josh Earnest forwarded a Twitter posting by Obama's ambassador to Japan, Caroline Kennedy, who wrote, "My dad, JFK, was for free trade. Democrats today should be too."
In an unusual alliance, most Republicans were backing Obama. Many Democrats remain stung by the 1994 North American Free Trade Agreement, which labor unions blame for a decline in U.S. manufacturing jobs.
Treasury Secretary
Obama sent top government officials including Treasury Secretary Jacob J. Lew to the Capitol a day earlier to plead for House Democrats' votes. The measure, passed by the Senate in May, would let Obama submit trade agreements to Congress for an expedited, up-or-down vote without amendments.
The bill, H.R. 1314, would give Obama and the next president expedited trade negotiating authority for six years.
The defeat is a blow for Obama because trade was an area where he had seen opportunity for support from Republicans, who this year took control of the Senate as well as the House where they'd already had a majority. Obama had spoken with optimism as the congressional session began about trade being a bright spot where he and Republicans agreed something had to be done.
It was Obama's own party that dealt him the defeat on trade, siding instead with labor unions and environmental groups that have urged caution on expanding trade, saying it would cost U.S. jobs.
Domestic Priority
Obama invested time and his political capital in making trade his top domestic priority this year. He has said that without fast-track authority, reaching trade agreements with Pacific or European nations will be unlikely.
The Friday morning trip to Capitol Hill -- his first since 2013 for a policy matter -- was an indication of how personal the administration lobbying effort was to the the president.
Friday's voting procedure was worked out between Speaker John Boehner and Pelosi. It allowed a vote on the fast-track trade bill only if the House first passed the measure providing aid to workers who lose their jobs to foreign competition.
The worker assistance program typically is supported by Democrats and opposed by most Republicans. Some Democrats decided to defeat it because that would stop the vote on Obama's trade negotiating authority. The move would be worth it even though $450 million in aid for workers would be lost, some lawmakers said.
'Price to Pay'
"There are plenty of those who feel that's not such a bad price to pay for saving American jobs," Representative Jan Schakowsky, an Illinois Democrat, said Thursday.
Republicans also confronted opposition within their ranks to the trade package from members who wouldn't approve anything strengthening Obama's hand in international negotiations.
"As a Republican, free trade would be a great concept, but the folks back home have absolutely no faith and confidence in this president," Representative Blake Farenthold of Texas told reporters Thursday.
Before it's here, it's on the Bloomberg Terminal.
LEARN MORE