It's All Relative: Which Family Members Will Get a Shout-Out from Hillary Clinton?
From her mother to her brothers, a who's who.
by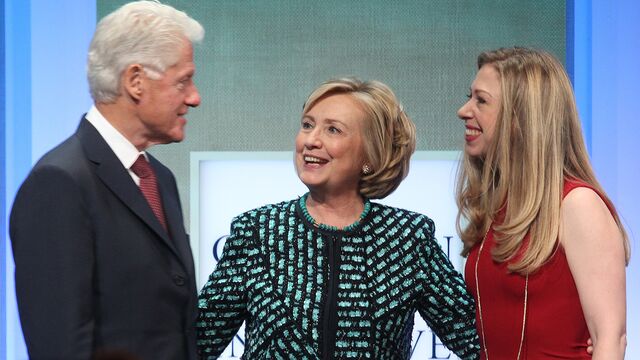 As Hillary Clinton addresses supporters in New York City on Saturday, she is expected to focus on an important person from her past: her mother, Dorothy. It's part of a campaign strategy to improve the candidate's likability and show her human side to voters.
But not all of her relatives are likely to generate fond remembrances on the campaign trail. Here's a list of family members Clinton is most and least likely to talk about in the months ahead.
Family members Clinton will likely discuss
1. Dorothy Rodham
Clinton discussed her relationship with her mother in her most recent memoir, Hard Choices. In an excerpt published by Vogue, Clinton described her mother as a "fiercely independent woman," and talks about how much she and her daughter, Chelsea, admired her.  Clinton's mother died in 2011.
2. Charlotte Clinton Mezvinsky 
Leading up to the launch of her 2016 bid for the White House, one of Hillary Clinton's favorite topics was her new role as grandmother. Chelsea Clinton announced her pregnancy in April, 2014. Her announcement was quickly followed with a tweet of congratulations from the former secretary of state, saying, "My most exciting title yet: Grandmother-To-Be!"
3. Chelsea Clinton
Chelsea Clinton has been in the public spotlight almost as long as her mother.  In an interview with Bloomberg TV on Wednesday, former President Bill Clinton said that if he leaves the Clinton Foundation because of his wife's political success, his daughter will do a fine job of running it.
4. Bill Clinton
The former president is tied with George H.W. Bush for most popular living president, according to a recent CNN/ORC Poll.  During his appearance on this Sunday's episode of CNN's State of the Union with Jake Tapper, Clinton will touch on his personal relationship with Hillary, according to several preview clips.
Family members who may get left out 
1. Tony Rodham
According to an article last month in the New York Times, Tony Rodham, Hillary's youngest brother, has used his relationship with his sister as his "calling card" since the days of the Clinton White House. Several of Rodham's business transactions have come under public scrutiny, including a proposal to build houses in Haiti by leveraging his relationship with the Clinton Foundation.
2. Hugh Rodham
Another brother, Hugh, won Florida's Democratic nomination for U.S. Senate in 1994. He lost the general election and has stayed out of the spotlight since. Near the end of the Clinton administration, Hugh took $400,000 in fees to lobby for pardons for his clients, according to a 2001 article from the Times. The actions may have been legal but they were brought under heavy public scrutiny.
3. Roger Clinton Jr.
Roger Clinton is President Bill Clinton's half-brother, whom the president pardoned on his last day in office. Roger was sentenced to two years in prison after pleading guilty to cocaine distribution in 1985. He had already served his sentence, so the pardon only expunged it from his record.
Before it's here, it's on the Bloomberg Terminal.
LEARN MORE