Christie Calls Lawmakers' Resistance on Patriot Act a 'Disgrace'
Terrence Dopp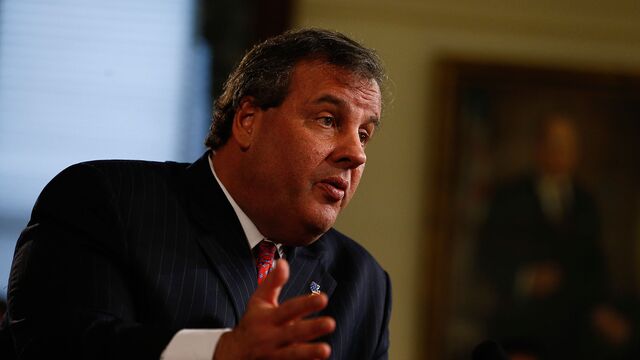 New Jersey Governor Chris Christie, wooing Iowans, ripped federal lawmakers who he said used their opposition to renewing the Patriot Act as a fundraising pitch.
Christie, 52, said it was hypocritical to oppose government surveillance, then use videos of stem-winding speeches to win support. Though he didn't name the targets of his wrath, the comments seemed aimed at U.S. Senator Rand Paul, the Kentucky Republican who has used his opposition to gathering U.S. citizens' phone records to rally supporters.
"You've got folks, some of them running for president, who stood on the floor of the United States Senate and weakened our country and then sent out videos of it to try and raise money," Christie told about 100 people in Cedar Rapids on Friday. "They bragged about how much money they raised from it. To me, that's a disgrace."
In a recent e-mail to supporters, Paul said "standing up for the Bill of Rights and demanding an end to illegal domestic spying is what Americans outside the beltway are crying out for."
The Republican field for president may feature as many as 18 contenders. Christie has said he will announce his decision this month.
The former U.S. prosecutor is casting himself as the only hopeful with genuine anti-terrorism credentials. In Iowa on Thursday, he said his blunt style could pay dividends when dealing with Russia and Iran.
Before it's here, it's on the Bloomberg Terminal.
LEARN MORE