California Cuts Water to More Farmers as Drought Escalates
Alison Vekshin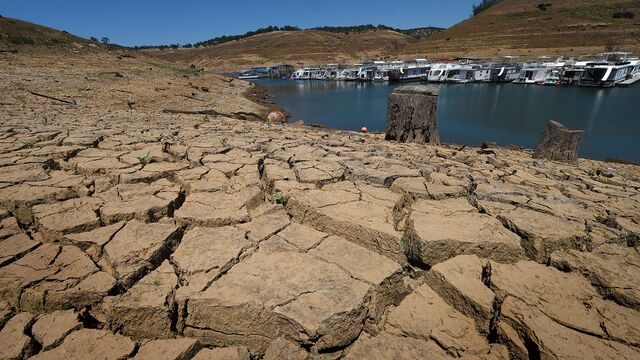 California farmers who've held rights to siphon water from two key rivers in the state's Central Valley for more than 100 years have been ordered to cut back as one of the most severe droughts in state history intensifies.
About 100 senior water rights holders with claims dating back to 1903 will have to stop pumping from the San Joaquin and Sacramento watersheds and surrounding delta to ensure those with even older rights have enough, the State Water Resources Control Board said Friday in a news release.
"The senior water rights affected by today's notice add to the growing number of water rights restricted by the state's ongoing drought as demand far outstrips supply in key California watersheds," the agency said in the release.
The action is the latest by state officials to conserve water as a record-setting drought grips the most populous U.S. state for a fourth year. California's $43 billion agriculture industry consumes about 80 percent of the water used by people in the state and has experienced the worst effects of the arid conditions. Farmers have been forced to fallow thousands of acres of land, dig new wells and buy water from other farmers.
California's water rights are based on a system of seniority that dates back to the Gold Rush era when settlers staked their claims along California's rivers. Today, those claims still determine who gets priority access, a structure that creates winners and losers in a drought.
Violators will face daily fines of as much as $1,000 and $2,500 per acre-foot of water diverted unlawfully, according to state water officials.
President Barack Obama on Friday promised another $110 million in drought and wildfire aid to farmers and communities in western U.S. states, including $18 million to provide jobs to California workers displaced by the water shortage.
"The drought has caused more than half a million acres to be fallowed and thousands of farm jobs to disappear," California Governor Jerry Brown, a Democrat, said Friday in a news release.
Agriculture will suffer an estimated $2.7 billion in losses and about 18,600 job cuts as a result of the drought, according to a May report from the University of California at Davis.
Before it's here, it's on the Bloomberg Terminal.
LEARN MORE