Obama's Fast-Track Trade Supporters in Final Push for Votes
Carter Dougherty and Billy House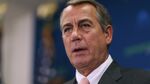 The White House led an intense effort Thursday to round up votes among fellow Democrats to help pass fast-track trade legislation that's a centerpiece of President Barack Obama's second-term agenda.
Some Democrats who oppose the measure granting the president expedited trade negotiating authority staged a revolt against a separate bill aiding workers displaced by foreign trade, after Democratic leader Nancy Pelosi crafted a compromise linking the two bills. Defeating the worker assistance proposal in Friday's votes also would kill the trade authority sought by Obama.
Treasury Secretary Jack Lew, who met privately Thursday with House Democrats, called the scheduled votes on trade a life-or-death moment for the displaced workers' program, said an aide in the room who sought anonymity to describe the meeting.
"If we lose it, it may never come back," said Representative Gregory Meeks, a New York Democrat who supports both trade measures.
House members Thursday narrowly adopted, 217-212, a rule that will govern Friday's debate and votes.
The fast-track measure, passed May 23 by the Senate, would let Obama submit trade pacts to Congress for an expedited, up-or-down vote without amendments. The president has said he wants to complete the 12-nation Trans-Pacific Partnership trade agreement and send it for approval under that procedure.
The first part of the multi-bill trade package, which would promote trade with poorer countries, passed 397-32 Thursday.
The House plans to vote on the fast-track bill only if members first pass the displaced-workers program, which had been sought by Democrats.
'Over the Line'
"I'm hopeful the Democrats will do their part helping to get this over the line," House Speaker John Boehner, an Ohio Republican, told reporters.
Republican leaders and the Obama administration are seeking to gain passage with support from most Republicans and some Democrats.
"I'm encouraged," Boehner said Thursday, though he added, "I'm not in the guaranteeing business."
In an unusual alliance, most Republicans are backing Obama, who contends the trade measure would help U.S. workers and set rules for the global economy. Many Democrats remain stung by the 1994 North American Free Trade Agreement, which labor unions blame for a decline in U.S. manufacturing jobs.
White House press secretary Josh Earnest said Obama telephoned Boehner Thursday to discuss the trade votes.
Not 'Perfect'
"We're pleased to do our part," Earnest said. "It doesn't mean a perfect piece of legislation is going to pass, but it does mean Democrats and Republicans should be able to seize common ground."
The U.S. Chamber of Commerce released a letter urging House members to vote for the trade measures, saying that prior agreements "have generated an expansion in trade that supports more than 5 million American jobs."
During House Democrats' meeting, Pelosi -- after months of not disclosing her views on the trade measures -- mounted a defense of the process she agreed on with Boehner, said the aide who was in the room.
"She negotiated this," Representative Gerry Connolly, a Virginia Democrat, told reporters. "She has ownership of this."
Pelosi hasn't said publicly whether she'll support the package of trade bills, and she didn't tell other House members during the meeting, Connolly said.
Perez, McDonough
She made a case for the process she helped negotiate as senior administration officials, including Lew, Secretary of Labor Tom Perez and White House chief of staff Denis McDonough, pleaded with members to support it.
AFL-CIO President Richard Trumka also spoke at the meeting to oppose trade negotiating authority.
Coming out of the meeting, Representative G.K. Butterfield, a North Carolina Democrat and leader of the Congressional Black Caucus, promised his support for the bills.
Other Democrats who oppose fast-track said they hope to persuade enough Democrats to vote against aid for displaced workers, even though they support it, to prevent fast track from even coming to a vote. Representative Jan Schakowsky, an Illinois Democrat, said killing the workers' aid was worth the price.
"There are plenty of those who feel that's not such a bad price to pay for saving American jobs," she said.
Senator Elizabeth Warren, a Massachusetts Democrat, asked her supporters in an e-mail to contact their representative and urge a "no" vote on the trade bills.
Displaced Workers
The deal Pelosi struck with Boehner will bring the displaced-workers' plan, Trade Adjustment Assistance, to the House floor first on Friday. The program usually has broad support from Democrats and is opposed by most Republicans. Only if that bill passes will the House consider trade negotiating authority, under the agreement.
The measure on trade with poorer countries passed Thursday includes a provision canceling a plan to fund some of the displaced workers' aid with $700 million in cuts to Medicare. Democrats opposed the Medicare cuts, and the new provision was part of the agreement between Boehner and Pelosi.
Democratic Representative Raul Grijalva of Arizona, co-chairman of the Congressional Progressive Caucus of more than 60 members, said they're still opposed to the displaced-workers plan.
"I would guess you will see a majority of Democrats vote against it," Grijalva said.
$450 Million
The aid for displaced workers is set to expire at the end of this year, along with $450 million for workers.
Republicans control the U.S. House 246-188, meaning that if all members vote, support from 218 lawmakers is needed to pass a bill. The trade votes will represent a test for Representative Steve Scalise of Louisiana, the top Republican whip counter, and his lieutenants.
In an indication of the administration's confidence that trade promotion authority will pass, U.S. Trade Representative Michael Froman told a group of CEOs on Wednesday that they should prepare for a similar lobbying campaign to pass the Pacific trade agreement.
"It may not be at the same intensity for six months, but that will be a big debate," Froman said.
The House will consider the same version of the fast-track legislation, H.R. 1314, that the Senate passed. That would avoid a conference committee and let the House send the bill directly to Obama for his signature.
(A previous version corrected Meeks' party affiliation in fourth paragraph.)
Before it's here, it's on the Bloomberg Terminal.
LEARN MORE