Boehner 'Encouraged' Obama Fast-Track Trade Plan Will Pass House
Billy House and Carter Dougherty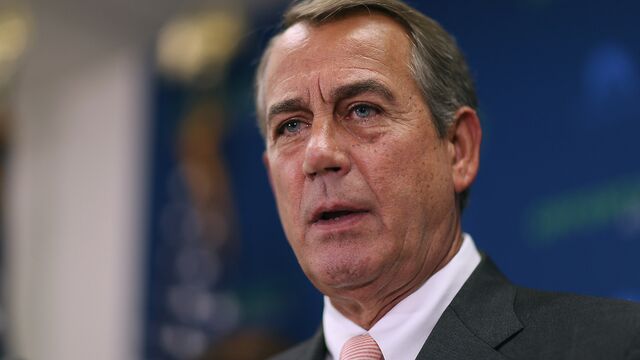 House Speaker John Boehner said he's encouraged although won't guarantee that his chamber will pass legislation giving fast-track trade authority to President Barack Obama.
"We've been working our way through this process and I feel good about it," Boehner told reporters as the House prepared for a series of votes on the trade package Thursday and Friday.
"I'm encouraged," the Ohio Republican said. "I'm not in the guaranteeing business."
House Majority Leader Kevin McCarthy, a California Republican, set out in a memo to lawmakers a two-day vote schedule designed to win support of some Democrats. The first measure, passed 397-32 Thursday, would promote trade with poorer countries.
On Friday, the chamber would vote on fast track and a provision aiding workers displaced by trade deals -- a demand of Democrats who also support giving the president the fast-track, or trade promotion, authority.
"I'm hopeful the Democrats will do their part helping to get this over the line," Boehner said.
'Red Herring'
House Minority Leader Nancy Pelosi, a California Democrat, told reporters Thursday her members want to add public employees as beneficiaries of aid for displaced U.S. workers. Boehner called that concern a "red herring" and said that when a prior law included public workers, none qualified for the aid.
Pelosi didn't say whether she will support the trade package, saying she would make a statement on the House floor. Still, she praised the "excellent and impassioned work" of people on all sides of the trade debate.
The fast-track measure, passed May 23 by the Senate, would let Obama submit trade agreements to Congress for an expedited, up-or-down vote without amendments. The president has said he wants to complete the 12-nation Trans-Pacific Partnership trade agreement and send it for approval under that procedure.
Whether there is enough support to pass the bill has been the running question, and the vote probably will be tight. The votes will represent a test for Representative Steve Scalise of Louisiana, the top Republican whip counter, and his lieutenants.
In an indication of the administration's confidence that trade promotion authority will pass, U.S. Trade Representative Michael Froman told a group of CEOs on Wednesday that they should prepare for a similar lobbying campaign to pass the Pacific trade agreement.
'Big Debate'
"When we get past TPA, we will need something similar for TPP," Froman said. "It may not be at the same intensity for six months, but that will be a big debate."
Republicans control the U.S. House 246-188, meaning that if all members vote, support from 218 lawmakers is needed to pass a bill.
Two House aides said, at the end of May during a congressional recess, that informal vote counts showed more than 200 Republicans supporting the measure and about 25 House Democrats prepared to vote yes -- enough for a clear majority. The aides had sought anonymity to discuss the count.
McCarthy made clear Wednesday that if the leadership held the vote, it would be because it can pass. "As soon as we have the votes, we'll be moving the bill," McCarthy said.
The House will consider the same version of the fast-track legislation, H.R. 1314, that the Senate passed. That would avoid a conference committee and let the House send the bill directly to Obama for his signature.
Ironed Out
House leaders ironed out a series of procedural disputes aimed at assuring Democrats who will vote for fast track that planned cuts to Medicare would vanish from final legislation, and that aid to displaced workers would pass.
Representative Adam Smith, a Washington state Democrat, said in a statement Thursday he will oppose the plan because it doesn't do enough to protect workers and the environment. He had said he was undecided by leaning against the trade measures earlier Thursday in a meeting with Bloomberg reporters and editors.
An initial plan to fund aid to displaced workers with $700 million in Medicare cuts was being dropped by including an amendment in the bill on trade with poor countries, which will have to be reconciled with a Senate version.
Move 'Expeditiously'
Senate Majority Leader Mitch McConnell, a Kentucky Republican, said in an e-mailed statement that it would move "expeditiously" to Obama's desk.
The bill would cover the cost of eliminating the Medicare cuts by increasing tax compliance penalties and changing information-reporting requirements for students and colleges relating to education tax breaks. The education changes would raise an estimated $576 million over a decade.
"In terms of fixing the Medicare offsets, we worked together to come up with a Medicare alternative, and we did," Boehner said.
The Friday votes will be structured to ensure that Republicans, the majority of whom oppose aid to displaced workers, can vote against that part of the bill, while still passing fast track. If the displaced workers bill, which most Democrats support, fails, then the House will abandon the vote for fast track, McCarthy said in the memo.
Banks' Victory
Banks also scored a victory in the trade package. The House is removing language that would have required them to report to the Internal Revenue Service annually on non-interest-bearing accounts and accounts that earned less than $10 in interest.
"That was the result of our decision-making," House Ways and Means Committee Chairman Paul Ryan, a Wisconsin Republican, told reporters.
The House will also consider, with amendments, a bill on customs and trade enforcement, McCarthy said. That legislation eliminates a provision won by Senator Charles Schumer, New York Democrat, that would penalize imports from countries that manipulate their currency. The customs measure would go to a House-Senate conference committee to work out differences.
Before it's here, it's on the Bloomberg Terminal.
LEARN MORE