Jon Stewart Admonishes the New York Times Over Marco Rubio Coverage
The host of the Daily Show took aim at the paper for its recent stories on the Florida Senator and presidential candidate.
by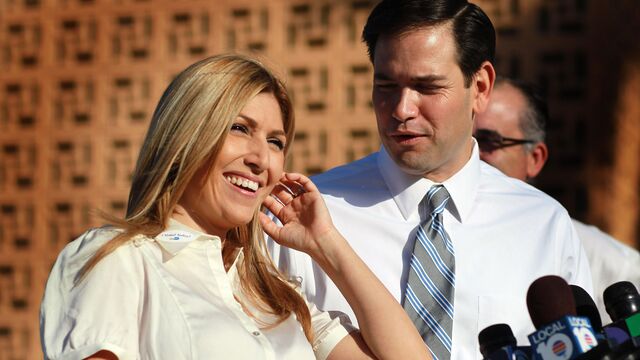 Have you heard the one about Marco Rubio's "oversized windows"?
Comedy Central funnyman Jon Stewart skewered the New York Times on Wednesday night's episode of the  Daily Show over the paper's recent coverage of Florida Senator Marco Rubio's parking and traffic citations, as well as a front-page report on the presidential candidate's personal finances. 
Last week, the Times reported that Rubio and his wife had amassed 17 citations since 1997. Jeanette Rubio was responsible for 13 of the tickets. 
"Marco Rubio got four tickets in 17 years," Stewart said sarcastically. "I assume the New York Times obtained this damning information from Marco Rubio's plaque in the Hall of Best Miami Drivers Ever." 
On Tuesday, the Times published a longer piece detailing Rubio's debt and financial decisions that Stewart contended contained little front-page-worthy information. Among the piece's revelations, Rubio purchased an $80,000 fishing boat, leased a $50,000 SUV, and raided his own 401K retirement account while in debt from student loans. 
But when Rubio received an $800,000 book advance, he also used $100,000 of that money to pay off his law school debt. 
"You bastard!" Stewart said, feigning outrage. "Paying off law school loans? How dare you."
Stewart ridiculed other details in the Times' portrayal of Rubio's spending habits, including its description of a home he purchased that featured "an in-ground pool, a handsome brick driveway, meticulously manicured shrubs, and oversized windows." 
"Oversized windows!" Stewart continued. "Oh, what's the matter, senator? The normal amount of light isn't good enough for you?"
All in all, Stewart concluded, the stories were not, as they say, worth the paper they were printed upon.  "How is this front-page news?" Stewart asked. "I can't think of a single person who would be bothered by this."
Before it's here, it's on the Bloomberg Terminal.
LEARN MORE