Jeb Bush in Warsaw: 'I'll Talk to My National Security Advisor'
In an apparent nod to his expected announcement of a presidential campaign Monday, Bush said he wouldn't be able to make certain calculations about NATO unless he gets "classified briefings."
by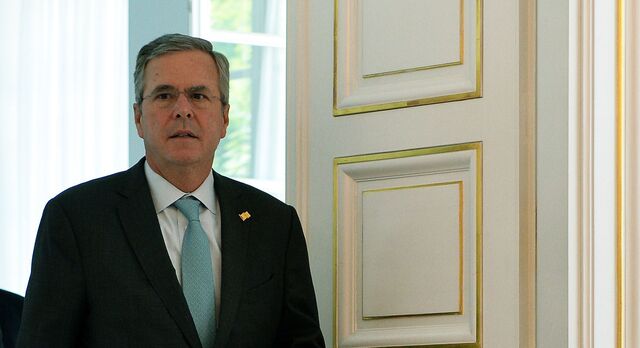 Former Florida Governor Jeb Bush addressed reporters in Warsaw Thursday, speaking on issues ranging from regional security to his expected presidential campaign announcement on Monday.
Bush largely reiterated his themes of closer cooperation with Europe and more forceful stance against Russia.
At one point, a reporter asked him what would need "to change" in order for him to decide whether NATO should maintain permanent bases in Poland, which Bush had previously said he wasn't sure about.
"I guess you get classified briefings," Bush said with a laugh. "On Monday, I hope to make a decision about running for the presidency." Then he added: "You know, I'll talk to my national security adviser and get back to you."
Although it isn't clear who Bush's national security adviser would be if he won the nomination and the White House, many of his campaign's foreign policy and national security advisers also worked for his brother, his father, and Ronald Reagan. 
Bush also addressed a New York Times story that said American workers at Disney's Florida park were fired and forced to train immigrants who were replacing them.
"If that's the whole story, that's inappropriate," said Bush, who supports a path to legal status for those who immigrated to the U.S. illegally.
However, he remains "a big Disney fan" because of the jobs and tax revenue they bring to the state, he said.
—Michael C. Bender contributed reporting from Warsaw.
Before it's here, it's on the Bloomberg Terminal.
LEARN MORE