Bernie Sanders' Rx For 'Stressed Out' America: More Vacation
His "family values" are all about paid time off work
by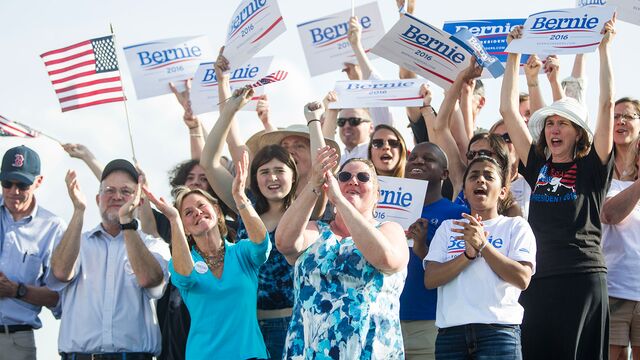 Stressed-out workers and burnt-out parents: Democratic presidential candidate Bernie Sanders wants to give you more time off.
The Vermont senator vowed on Thursday to change system that he argues keeps Americans spending too much time at their desks and too little with their families.
 "We are the only major country on earth that does not guarantee paid vacation time, " Sanders said. We are a stressed-out nation. People are tired. People are exhausted. People are overworked. People need vacation time."
Sanders declared his intention to reframe "family values" — long the mantra of socially conservative Republicans — as a progressive economic issue. "I intend to appropriate that language," he said, "to really talk about the family values that matter to the American people."
At a Washington breakfast for reporters hosted by the Christian Science Monitor and later at a Capitol news conference, Sanders championed a trifecta of  what he termed "family values" proposals:  federally-guaranteed time off from work for new parents, leave to care for a sick child, and 10 days of paid vacation.
"Family values are about the ability of a mom to be able to spend time with a newborn baby," he said. "Family values are about a mom being able to take care of a sick child... And lastly, family values are about the ability of a family to spend some leisure time together in a relaxed environment." He contrasted that to "the family values my Republican colleagues talk about, which for them means women don't have a right to control her own body, or that gay people should not have the right to get married, or that women should not have access to contraception."
Sanders rolled out legislation to require employers with 15 or more employees to guarantee them a minimum of 10 paid vacation days per year. He called it "absolutely absurd that nearly one in four workers in this country get no paid vacation time."
Sanders endorsed Democratic-led bills to accomplish the other two objectives—one by Senator Kirsten Gillibrand of New York to expand paid family and medical leave guarantees, and another by Senator Patty Murray of Washington to let workers earn up to 7 days of paid sick leave per year. The proposals not so coincidentally ally him with two female senators on issues important to women as Sanders pursues his long-shot bid to topple that nation's first serious female presidential candidate, Hillary Clinton, from her perch as the 2016 field's front runner.
Before it's here, it's on the Bloomberg Terminal.
LEARN MORE