NYC Rent Laws in Balance as Scandals Hinder Albany Deals
Freeman Klopott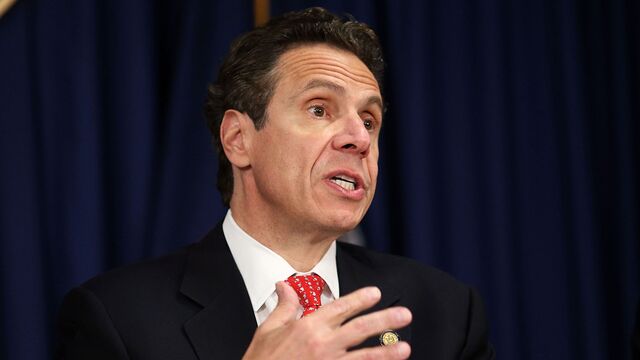 Governor Andrew Cuomo and lawmakers have five days to act before the expiration of regulations that limit rent increases for 2 million New York City residents.
Mayor Bill de Blasio, his fellow Democrats who control the state Assembly and tenant advocates want to end a rule that allows apartments to be removed from regulation when their rents top $2,500 a month. Cuomo says he wants to either end it or "significantly" raise the limit. Republicans who control the Senate have said they're not willing to kill the rule, known as vacancy decontrol.
Talks over the law, which was last renewed in 2011, have been sidetracked by a series of corruption scandals related to New York City real estate that have toppled Albany's top two lawmakers. Assembly Speaker Sheldon Silver resigned from his leadership post of more than 20 years after his Jan. 22 arrest. Senator Dean Skelos stepped down last month after his arrest. Both say they'll be exonerated.
"Because of the chaos that you've had in Albany since January, there hasn't been as much focus as there normally would be on the rent-regulation issue," said Frank Ricci, director of government affairs for the Rent Stabilization Association, which represents owners of regulated apartments. "They're going to be renewed in some form or another. The issue is when, for how long and with which rules."
Affordable Housing
In a city where two-bedroom Manhattan apartments rent for an average of $5,248 a month, affordable housing has grown increasingly out of reach. De Blasio, the first Democrat to run City Hall in 20 years, has put forward a plan to preserve or create 200,000 units of low-cost housing by 2025. Central to it is ending vacancy decontrol.
"I'd be lying if I didn't say I was nervous," Assemblyman Keith Wright, the Harlem Democrat who leads the chamber's housing committee, said in an interview. "We have a responsibility in the legislature to act for the people we represent."
Rents in stabilized apartments are set annually by the Rent Guidelines Board. Last year, the board approved historically low increases of 1 percent for one-year leases and 2.75 percent for two years. When an apartment becomes vacant, landlords can raise the rent by 20 percent. Since 1993, when vacancy decontrol was implemented, 250,000 apartments have left the rent-stabilization program, according to city statistics based on the U.S. Census.
Tax Abatement
Also expiring on June 15 is a property tax abatement for developers who promise to make at least 20 percent of the units in new buildings affordable. De Blasio and Cuomo have put forward competing plans for the abatement, both meant to add more low-cost housing. Cuomo's proposal would require developers to pay union wages, which de Blasio says would reduce the number of affordable dwellings by raising construction costs.
The abatement, called 421-a, can expire and be renewed next year with little effect on the city's housing market. Developers say they need the $1 billion annual property tax cut to make building low-cost rentals affordable.
Cuomo told reporters in Albany Wednesday that the scandals have made it difficult to negotiate and that there's little chance 421-a will get extended this session.
"If there was a different time, and a different climate, I might just put everyone in the room and negotiate it myself," Cuomo said. "In this climate in Albany, it's not conducive to that."
By contrast, Cuomo said letting rent regulations expire for even one day would lead to "mayhem."
"At a minimum you need an extension," he said. "There is time still, but time is getting short."
On June 6, after initially saying he would support increasing the cap to $2,700, Cuomo said in a New York Daily News op-ed that an extension of the law must either end vacancy decontrol or "significantly" raise the limit. He didn't specify how high.
Cuomo, whose two campaigns were backed by New York City's biggest developers and property owners, said he'll call back the legislature every day if they don't follow through. Lawmakers are scheduled to go home for the year on June 17.
"Their work will not be done unless and until they pass a law to strengthen and extend tenant protections," he wrote.
Before it's here, it's on the Bloomberg Terminal.
LEARN MORE