Can Julian Castro Help Bring Out the Latino Vote for Hillary Clinton?
The 40-year-old secretary of Housing and Urban Development is often mentioned as a possible running mate for the Democratic front-runner.
by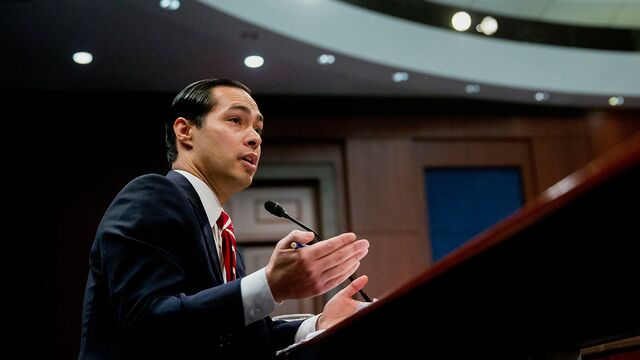 As Julian Castro waited backstage Tuesday morning at the Clinton Global Initiative conference in Denver for his panel on "The Map of Making it in America" to begin, a fellow panelist struck up a conversation with him in Spanish.
Lucas Benitez, co-founder of the Coalition of Immokalee Workers and an activist for farmworkers in Florida, said they talked mostly about farmworkers' challenges and housing issues. They also touched on the 2016 presidential contest, just long enough for Benitez to say that he hopes if Hillary Clinton is the Democratic nominee she taps Castro as her running mate, and for Castro to demur, "Thank you so much."
The 40-year-old, Hispanic secretary of Housing and Urban Development and former San Antonio mayor is in a position that anyone who's ever been a vice presidential prospect can identify with: You can't act like you want it, and the more coverage you get, the more you worry about damaging your own prospects with too much exposure. Early campaign coverage already has touched on whether Castro is experienced enough to not be a liability as a running mate; and whether his Spanish language skills as a third-generation Texan are as good as some non-Hispanic prospects from both parties.
"I talked to him in Spanish, and when I spoke Spanish he responded in Spanish," said Benitez, dismissing digs that Castro's language skills aren't as good as Virginia Senator Tim Kaine's, the other most often speculated-upon candidate for the second half of a prospective ticket. Castro's language skills were "not 100 percent" but good enough as far as Benitez was concerned. "He understood everything I said."
Castro, in an interview after the morning panel, insisted as he has before that he is not angling for the veep spot in 2016. "I don't believe that's going to happen and I'm not holding my breath on it," he said. "For me, what I signed up for is to do a great job at HUD and so I'm going to be focused on improving the lives of the people that we serve by creating more affordable housing opportunities and that's what I've told folks who come up and ask." He said he remains hopeful Congress can pass housing finance legislation this year.
He also said the last time he and Hillary Clinton spoke was in late March.
CGI organizers have emphasized that Hillary Clinton has removed herself from participation in her husband and daughter's organization now that she is a candidate, and that the Denver gathering is in no way connected to the Clinton presidential campaign.
And yet it's hard not to see Castro's itinerary at the CGI America gathering this week as a tryout of sorts, if not for running mate than as a high-profile surrogate who can turn out Latinos for Democrats in a year in which Republicans have two Hispanic contenders, Marco Rubio and Ted Cruz, as well as Jeb Bush, who speaks Spanish and whose wife is from Mexico.
Also on Bloomberg Politics: Julian Castro Does Not Want to be President, Now or 'Ever'
Castro has not endorsed any of the Democratic candidates at this early stage in the race, while he indicated he does expect to get involved in the coming months. "At some point well in the future I envision being more active, sure," he said, adding, "In any way that I can be helpful."
"It is good for both parties to make outreach efforts to the Hispanic community," he said, adding participation by minority groups is more likely if campaigns focus on issues people of different backgrounds care about.
The Republican field has "some good personalities out there" this time, in terms of potential appeal to Hispanics, he said. "The problems for the Republican Party with Hispanics are their policies. If they stick to the same policies then they're not going to do much better than they did last time."
And while he declined to weigh in on recent news coverage about whether Rubio has made sound personal financial decisions, Castro said such questions are fair game. "The questions are going to be there for anybody, whether they're Republican or Democrat, who puts their hat into the ring."
Castro was featured Monday night at a private CGI dinner hosted by the Kresge Foundation and closed to the press. Kresge's president and CEO, Rip Rapson, said in an interview Tuesday that housing, not presidential politics, was on attendees' minds. While Castro is a relative "newbie" to the job, he impressed participants as "someone who is taking this job very seriously. He was deeply impressive."
Castro's public appearance Tuesday was at a packed plenary session immediately following former President Bill Clinton's opening remarks and moderated by Chelsea Clinton. There, Castro said while housing is HUD's core issue, income inequality and mobility are broader concerns and that he is looking at ways to integrate help those who receive housing services with programs for schools, health care, jobs and transportation, because all of those issues are interconnected.
Later Tuesday, he attended a private luncheon of about 20 participants, with President Clinton, economist Laura Tyson, CEOs, and high-profile mayors including Atlanta's Kasim Reed before leaving town.
He also told the crowd about how his mother, an activist, had always carried a red purse to promote women's pay equality. Asked later if he carried a red wallet, he laughed, saying that would be a good idea except that "I never carry a wallet. I just carry my credit cards and sometimes some cash and my IDs, without any kind of wallet. Just in my pocket. And I am proud to say that it's been a while since I've actually lost anything."
He also swears he and his twin brother Joaquin, a congressman, never secretly stand in for one another and that the one and only time they ever did that was in high school. "My brother routinely introduces himself by saying that I'm a minute uglier than he is," he said. "So folks should be on notice that if you see the ugly one walking around it's me."
Before it's here, it's on the Bloomberg Terminal.
LEARN MORE