All Signs Point to Donald Trump Presidential Run
The reality TV host plans rallies in Iowa and New Hampshire immediately following his June 16 announcement.
by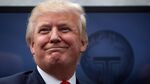 This time, he may really mean it. 
Business executive Donald Trump appears poised to announce his entry into the presidential race on Tuesday and will travel to Iowa and New Hampshire immediately after making his intentions known, the Des Moines Register reports. 
In Iowa, Trump plans an evening rally at Hoyt Sherman Place in Des Moines. An invitation describing a "MAKE AMERIA (sic) GREAT RALLY" was sent to area residents, and gave further indication that Trump has made up his mind, the Register reported. 
"BE A PART OF HISTORY!!" the invitation stated. 
The following day, Trump will fly to New Hampshire for another post-announcement event at Manchester Community College, WMUR reported. 
After flirting with past presidential runs only to forgo an actual declaration, Trump appears poised to have an immediate impact on the Republican race. Debate rules set out by Fox News would allow just the top 10 Republicans to participate based on polling averages. By that criteria, Trump could qualify, while candidates like South Carolina Senator Lindsey Graham, and former Hewlett-Packard CEO Carly Fiorina would likely not. 
Trump, who has described the large GOP field as being made up of "clowns," said last week that "a lot of people are going to be very happy" with his announcement. 
The television reality-show host and real-estate mogul remains confident that he is the answer to the question of who is best suited to be the nation's next president. 
"It's about making America great again. I can do it, and nobody else can do it," Trump told the News & Observer last week. 
Before it's here, it's on the Bloomberg Terminal.
LEARN MORE