Paul Ryan Still Sees Chance for Common Ground on International Taxes
Richard Rubin and Billy House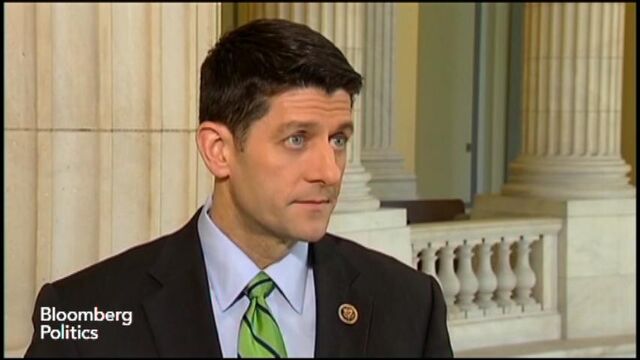 Representative Paul Ryan still has hope for reaching a limited deal on U.S. tax policy this year.
"The question is: Can we take a couple of steps in the right direction, particularly with international tax laws and international tax rules?" Ryan, the chairman of the House Ways and Means Committee, said Tuesday in an interview on Bloomberg Television. "Ours are really anti-competitive. Can we do some things to fix that so we can make American businesses more competitive?"
In focusing on international taxation, the Wisconsin Republican didn't mention the U.S. corporate tax rate cut that he supports, though he didn't explicitly jettison that idea either.
In recent weeks, lawmakers have been discussing the concept of a so-called patent box or innovation box, which would apply lower tax rates to highly mobile income generated from intellectual property.
Such a move would mimic tax regimes in some European countries and be an incentive to locate research jobs and profits in the U.S. instead.
Under current rules, U.S. companies have been able to shift profits to low-tax or no-tax countries by locating patents and other intellectual property outside of the country and then leaving the profits overseas.
U.S. companies owe the full 35 percent on profits they earn around the world. They receive tax credits for payments to foreign countries and don't have to pay the residual U.S. tax until they bring the money home. That creates an incentive to book profits overseas and leave them there.
Offshore Profits
President Barack Obama wants to impose a 14 percent tax on about $2 trillion in profits U.S. companies have stockpiled overseas, and then apply a 19 percent minimum tax to future profits. Obama's proposal is similar to plans Republicans have offered -- though with higher rates.
Ryan didn't endorse a particular approach to international taxes during the Bloomberg TV interview. He said he wanted to reduce the incentive for U.S. companies to engage in inversions or be susceptible to takeovers by foreign competitors.
He said lawmakers also will try to address dozens of tax provisions that lapsed at the end of 2014.
"There are some quick issues that need addressing that perhaps there's a chance to find common ground on that," he said.
A broader revamp of the U.S. tax code, Ryan said, will have to wait until 2017. Republicans want to lower marginal rates for corporations and individuals.
Obama wants to cut the corporate tax rate but not the one for individuals -- which also affects many business owners.
Trade Measure
Also in the interview, Ryan continued to express confidence that the House will give final passage to Obama's fast-track trade authority measure. He wouldn't be pinned down on whether that vote would occur this week, or how many Republicans and Democrats would vote for passage.
"We feel that we're heading in the right direction, very, very close," Ryan said about backing for the bill.
Ryan deflected the notion that pushing the trade vote beyond this week might be a sign that supporters are lacking the votes needed for passage.
"No, it would just be a reflection on our preference for timing," he said.
Before it's here, it's on the Bloomberg Terminal.
LEARN MORE