De Blasio Takes His Inequality Message to International Audience
Henry Goldman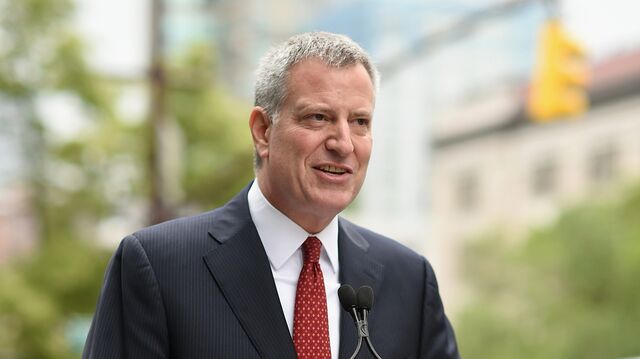 Cities across the globe must take the lead in tackling the twin problems of income inequality and climate change, New York Mayor Bill de Blasio told an international gathering of urban officials.
"The leaders around this table are dealing with the most challenging issues in the world," de Blasio said Tuesday, welcoming more than 75 mayors and officials from 40 countries to the sixth annual World Cities Summit.
"We have seen too many times when national governments look away from them rather than facing them directly," de Blasio said. "At the local level, there's urgency."
The three-day event, being held this year in Manhattan, was another opportunity for de Blasio to take his progressive message to a wider audience. He appeared on CBS News's "Face the Nation" this week and on NBC News's "Meet the Press" in April. He's also traveled to the Midwest and Washington, saying he wants to influence the 2016 U.S. presidential campaign by pressing candidates to address income inequality, which he describes as a defining issue.
The mayor told the assembled municipal chief executives that economic opportunity and environmental sustainability must be pursued together to create livable cities at a time when more than half of the world's population resides in urban centers, as opposed to 200 years ago, when cities held about 3 percent.
'Noble Goals'
He told delegates that he intends to build or preserve 200,000 affordable housing units by 2025. He's also advocated a national $15-an-hour minimum wage; eliminating reduced tax rates for carried-interest earned by private-equity investors; and paid sick days and family leave for workers.
Referring to a goal he's set to raise 800,000 New Yorkers from poverty in the next 10 years, de Blasio said, "We have to hold these standards up to create action. High and noble goals energize action, inspire ideas and create unity."
The program features panel discussions and individual lectures on the themes of housing and economic development; transportation; sustainability and resiliency; and enhancing education and job-training.
Lee Yi Shyan, Singapore's senior minister of state for trade, industry and economic development, and United Nations Deputy Secretary-General Jan Eliasson are also attending the conference.
Alicia Glen, a former Goldman Sachs Group Inc. executive whom de Blasio tapped as deputy mayor for housing and economic development, will introduce a panel Tuesday with officials discussing affordable housing programs in such far-flung locales as Suzhou, China; Accra, Ghana; and Singapore.
Before it's here, it's on the Bloomberg Terminal.
LEARN MORE